Many share the misconception that a high-quality mattress will cost you thousands of dollars. This may be true for some models, but budget-friendly beds are also widely available. Despite affordable price-points, these mattresses offer the same high-quality materials and strong performance as many of their more expensive counterparts.
For our best affordable mattress guide, we've focused solely on models from online brands since they typically offer lower prices than brick-and-mortar stores. Our testing team selected the picks below based on factors like expected durability, quality of materials, unique construction details – and of course, sticker price.
Watch Video: We Tested the Best Cheap Mattresses of 2023 – Here Are Our Favorites
Watch our video below to learn more about our lab's top picks for cheap mattress.
Our guide discusses how to find a mattress that's both comfortable and easy on your wallet. Our picks for the best budget mattress models sold today are described in detail below. If you scroll a bit further, you'll find an overview of different mattress types and tips for first-time mattress buyers. While shopping for your budget-friendly mattress, check out our list of the Best Affordable Sheets to go with your new bed.
Our Recommendations
The Nectar's sticker price makes it a high-value mattress compared to other memory foam models. However, our testing found the mattress still performs at the same level as – if not better than – many pricier all-foam beds.

How It Performed

Our in-house testing found the Nectar has a much more balanced feel than many competing foam mattresses thanks to its higher-than-average firmness level. Side and back sleepers on our team enjoyed the generous cushioning for sore spots in their joints and lower back without sinking excessively. Stomach sleepers weighing less than 130 pounds may also feel comfortable, but those who weigh more will likely need a more supportive mattress.

We also recommend the Nectar for couples who value motion isolation. The foam layers absorbed most movement transfer and noise when we moved across the mattress or changed positions, so you should notice fewer disturbances if your partner tosses and turns at night.

What It's Made of

The Nectar is constructed with a memory foam comfort layer over transitional and support layers of dense polyfoam. Though the mattress has a medium firm (6) feel, we found the mattress conformed evenly to distribute your weight and alleviate pressure along the spine. The top foam layer is infused with phase change material intended to release your body heat and maintain a cool sleep surface.

If you live in the contiguous U.S., you're eligible for free shipping. Nectar also offers a 365-night sleep trial to test out the mattress and a lifetime warranty against structural defects, both of which are longer than average.
One of Layla Sleep's newest mattresses, the Essential is a wallet-friendly all-foam model constructed with balanced comfort in mind. The medium firm (6) feel and gentle contouring should appeal to a wide range of people across different sleep positions and body types. An open-cell top layer also promotes breathability near the surface and helps you stay cool.

How It Performed

The Layla Essential earned favorable ratings from the vast majority of our testing team — a rare feat for a mattress this affordable. Side sleepers between 130 and 230 pounds were particularly impressed, as were back and stomach sleepers below 130 pounds. Stomach sleepers over 230 pounds were the only testers who assigned negative ratings, complaining of inadequate support and too much sink. If this describes you, we recommend a firmer mattress with a sturdier support system.

Motion isolation was a performance area where the Layla Essential excelled. None of our testers felt any movement when lying side by side on the mattress, and our kettlebell drops resulted in minimal motion transfer. Our thermal body sensors also detected minimal heat on the surface during temperature control tests, and most of our testers agreed the mattress prevented excessive pressure buildup.

What It's Made of

The Essential's straightforward design consists of a memory foam comfort layer and high-density foam base. Measuring 9 inches thick, the mattress is considered a low-profile model and should be compatible with the vast majority of sheet sets. The cover is composed of poly-Lycra fabric styled with Layla's signature hexagonal pattern. You may remove and machine wash the cover to keep your surface clean.

Layla offers free ground shipping to customers in the contiguous U.S. Your order comes with a 120-night sleep trial, during which you may return the Essential for a full refund if you aren't satisfied. Should you decide to keep the mattress, you'll receive a manufacturer's warranty with 10 years of coverage against various defects.
The Leesa Studio is a memory foam mattress that is affordable and practical. An all-foam design and true medium firm (6) feel should appeal to many people regardless of weight or sleep position, making the mattress well-suited to guest rooms and combination sleepers.

How It Performed

A relatively firm all-foam design makes the Studio a good option for side and back sleepers, especially those weighing up to 230 pounds. Our testing shows these sleepers receive adequate contouring but won't sink to an excessive degree.

During our tests, we found the mattress' adaptive foam layers alleviated pressure quite well, so it's a great choice if you wake up with aches and pains. The Studio is also well suited to couples. The three foam layers absorbed most movement transfer and noise when we moved across the mattress, so you and your partner shouldn't experience any sleep disruptions when the other person changes positions.

What It's Made of

The Studio begins with a memory foam comfort layer that offers moderate cushioning and relieves pressure points. Next is a polyfoam transitional layer that ensures your weight is evenly distributed across the mattress. The support core features high-density polyfoam that bolsters the sleep surface and prevents excessive sinkage. A cover made of polyester blend twill encases the foam layers. This fabric has a soft yet durable composition, and Leesa's trademark stripes add signature styling. The Studio measures 10 inches thick, making it a medium-profile mattress.

In addition to its affordable pricing, the Leesa Studio qualifies for free shipping to customers in all 50 states. Each order includes a 100-night sleep trial, during which you can test the mattress and return it for a full refund anytime after the 30-night break-in period. If you choose to keep the mattress, you'll also receive a 10-year warranty against structural defects.
Brooklyn Bedding offers an impressive lineup of beds that cater to different sleep preferences and budgets. The Essential is a foam hybrid model that cushions your body while delivering ample support — at a considerably lower price-point than other hybrids we've tested.

How It Performed

The foam layers in the Essential's comfort system are thinner than some other foam hybrids you'll find on the market, which results in slightly less cushioning. This earned the bed higher marks during our ease of movement tests, compared with plusher foam beds that inhibit movement across the surface.

Side sleepers under 130 pounds and back sleepers up to 230 pounds enjoyed the combination of light contouring and sturdy support. These testers reported adequate cushioning for the shoulders, hips, and spine while receiving enough pushback to prevent the lower back from sinking too deep. The mattress also performed well with hot sleepers due to the cooling airflow through the coils.

What It's Made of

The Essential begins with a cotton and polyester cover quilted with 1.5 inches of polyfoam. This is followed by a thin transition layer of high-density polyfoam that lightly contours to your figure while acting as a barrier between your body and the thick base. The support core contains pocketed coils that are responsive and sturdy. A polyfoam base layer stabilizes the mattress and helps promote durability.

Brooklyn Bedding offers a 120-night sleep trial and a 10-year warranty. Shipping is free to addresses in the contiguous U.S.
One of Casper's newest mattresses, this all-foam model — known simply as "The Casper" — delivers exceptional comfort for hot sleepers. The topmost layer consists of open-cell foam that circulates air and reduces heat buildup. A breathable, moisture-wicking cover also adds to The Casper's above-average temperature control. This mattress is a great option for anyone who's felt overly warm or sweaty sleeping on foam models in the past.

How It Performed

A true medium firm (6) mattress, The Casper earned its most positive ratings from side sleepers between 130 and 230 pounds, and back and stomach sleepers under 130 pounds. You may need a softer, more adaptive mattress if you sleep on your side and weigh less than 130 pounds. Conversely, many back and stomach sleepers on our team weighing more than 230 pounds claimed the mattress did not provide sufficient support.

As is often the case with all-foam models, The Casper earned high marks for motion isolation and pressure relief. Strong performance during our temperature control tests was more of a surprise, and we've attributed this to the AirScape comfort layer and breathable cover fabric.

What It's Made of

The Casper begins with a comfort layer of AirScape open-cell polyfoam. This proprietary material is perforated to promote airflow and minimize heat retention, allowing the surface to remain cool and comfortable throughout the night. A memory foam transitional layer adds extra cushioning while creating a buffer between your body and the support core, which is made of high-density polyfoam.

The blended cover contains upcycled cotton, recycled polyester, rayon, and a hint of Lycra spandex to make the fabric stretchy. At 10 inches thick, The Casper is considered a medium-profile mattress and won't necessitate a deep-pocket fitted sheet.

Casper offers free ground shipping throughout the contiguous U.S. and provincial Canada. You'll receive a 100-night sleep trial with The Casper, and a 10-year warranty against structural and material defects if you decide to keep your mattress.
The Silk & Snow Hybrid is a medium firm (6) bed sold at a reasonable price-point compared to other hybrid models we've tested of similar quality and construction. While the mid-range firmness level performed well across weight categories, our testers who weigh more than 130 pounds greatly benefited from the bed's excellent support.

How It Performed

Our testing found the foam comfort system and coil support core create a balance of cushioning and support that is well-suited for side sleepers. Our testers who frequently use this position require pressure relief in the shoulders and hips but enough support to prevent excessive sinkage in other areas of the body. We noticed the coil system ventilated the bed's interior quite well, and cooling gel infusions in the foam are meant to reduce heat retention, making this an appealing option if you tend to overheat.

What It's Made of

The mattress begins with a quilted polyfoam layer followed by a thicker layer of memory foam. This comfort system conforms closely to your body and cushions areas where pressure buildup may occur. Beneath is a pocketed coil system that is zoned to provide extra support to heavier parts of your body and help you maintain healthy sleep posture. We found the firm foam encasement around the mattress' perimeter provided excellent edge support, which is helpful if you have trouble getting in and out of bed or tend to sleep close to the edges.

Silk & Snow ships free within the contiguous U.S. and Canadian provinces. The mattress is backed by a 15-year warranty and comes with a 100-night sleep trial for you to test out the mattress. A 30-night break-in period is required, after which you may return the bed for a full refund.
The Dreamfoam Essential from Brooklyn Bedding is a quintessential memory foam mattress with an extremely attractive price-point. The bed has more profile options than most foam beds we've tested, with thicker models costing more. However, even the highest profile is reasonably priced, making this an excellent option for budget shoppers seeking a foam bed.

How It Performed

The mattress is available in five different profiles, ranging from 6 to 14 inches. All models conform closely to your body so you'll receive some pressure relief no matter which thickness you pick, but our testers found that thinner models were noticeably firmer than thicker models. The firmness levels range from medium soft (4) for the 14-inch model to firm (8) for the 6-inch model.

During tests, side sleepers felt the most comfortable on the 12- and 14-inch models. This sleep position benefits from soft beds with deep contouring to cradle shoulders and hips. Back sleepers under 130 pounds also enjoyed the balance of pressure relief and support in these thicker models. We don't recommend the higher profiles for sleepers over 230 pounds, since the plush layers may not provide sufficient support. The 14-inch model is especially plush, so it caters mostly to sleepers weighing less than 130 pounds and those who seek strong pressure relief.

Due to their thinner and firmer construction, the 6- and 8-inch models felt most comfortable for stomach sleepers between 130 and 230 pounds. However these models were too firm for side and back sleepers on our team.

What It's Made of

The Dreamfoam Essential is composed entirely of foam. The 6- and 8-inch models contain a 2-inch comfort layer of memory foam and a support core made of high-density polyfoam. The 10-inch model has a similar composition, except the memory foam layer is slightly thicker to enhance plushness. The 12- and 14-inch models both feature a third polyfoam layer to maximize contouring and softness.

Dreamfoam mattresses come with a 120-night sleep trial so that you can test the mattress at home. You'll also receive a 10-year warranty. Shipping is free to addresses in the contiguous U.S.
Finding a mattress for your spare bedroom can be challenging because everyone has different needs regarding firmness and support. You may not find a mattress that feels comfortable for all of your overnight guests, but our tests show that the Siena Memory Foam Mattress is a safe bet for most. This medium firm (6), all-foam model gently contours to your body but shouldn't sink excessively if you weigh up to 230 pounds. Our testing results also show the mattress isolates motion, alleviates pressure, and feels reasonably stable along the perimeter.

How It Performed

Throughout our tests, the Siena performed well in areas where memory foam mattresses tend to fall short. The medium firm feel and mid-range profile give the mattress above-average support, so the testers on our team who weigh up to 230 pounds didn't sink too much as they might on a softer, thicker all-foam model. The Siena also excelled during our motion isolation tests, and very few of our testers experienced painful pressure buildup while lying on the mattress.

Among our different types of testers, the Siena was most comfortable for side sleepers weighing 130 to 230 pounds and back and stomach sleepers under 130 pounds. However, testers across most weight and position groups gave the mattress a rating of "good" or better.

What It's Made of

The Siena begins with a comfort layer of adaptive memory foam, followed by a polyfoam transitional layer. These materials cushion and conform to the body while keeping you on an even plane. The top layer is infused with cooling gel intended to dissipate body heat and help you sleep cool. We also found the surface relatively easy to move across during our tests, which can be attributed to the firmer feel of this mattress.

The Siena's support core is composed of high-density polyfoam. This layer is designed to stabilize the entire mattress. We noticed minimal sinkage along the perimeter – especially compared to other memory foam beds. A cover made of knit polyester encases the entire mattress. The Siena measures 10 inches thick, making it a medium-profile model.

In addition to its affordable pricing, the Siena Memory Foam Mattress qualifies for free ground delivery throughout the contiguous U.S. Your purchase will include a sleep trial that spans 180 nights, giving you plenty of time to test the mattress and decide whether it's right for you. If you decide to keep it, you'll also receive a manufacturer's warranty that covers structural defects for up to 10 years.
The Allswell Mattress — also known as simply The Allswell — is a budget-friendly hybrid model designed for exceptional support. A firm (7) feel ensures the mattress should be comfortable for most sleepers who weigh at least 130 pounds, especially those who sleep on their backs or stomachs.

How It Performed

The comfort layer is made with cooling materials, so this surface may retain less heat than other foam hybrids. Our testers report that the quilted cover prevented the surface from feeling overly stiff, while the memory foam in the comfort layer cushioned the surface. The coil support core provided excellent overall stability during tests, and thicker coils along the perimeter helped us feel more secure when sleeping near the edges or getting in and out of bed. The coils also promote steady air circulation to help the mattress core maintain a comfortable temperature. The balance of cushioning and support felt comfortable for a wide swath of testers on our team, though it seemed to perform slightly better with back sleepers overall.

What It's Made of

The Allswell begins with a cover quilted with soft polyfoam. Beneath is a memory foam comfort layer infused with copper and graphite meant to reduce heat retention, followed by a thick coil base composed of pocketed coils. The edges are reinforced, which made it easier for our testers to lie close to the edges without sagging. The Allswell stands out from competing hybrids due to its highly affordable price-point.

Customers in the contiguous U.S. qualify for free ground delivery. The mattress is backed by a 100-night sleep trial and a 10-year warranty.
Data-Driven Results You Can Trust
Our team of sleep experts has personally tested hundreds of mattresses using a wide range of metrics to guide our evaluations. For this list, we focused on models with approachable price-points that also perform quite well in certain areas – even compared to their costlier competitors. Our extensive experience with mattresses equips us with the authority to assess which models offer the most value without compromising quality. Our test team includes a wide range of body types and sleep preferences to ensure we are representing as many perspectives as possible in our mattress evaluations.
How Our Testing Process Works
Our rigorous, hands-on testing process involves feedback from sleepers with varying weights and position preferences. The selections above reflect our latest findings, but rest assured we'll continue to reevaluate our list, test out new mattresses as they become available, and update our top picks accordingly.
Below you will find more information about our team's research methodology for ranking best cheap mattresses:
Dive Deeper – In-Depth Mattress Guides
For more help in narrowing down your search for a new bed, take a look at our recommendations broken down by mattress price.
How Much Does a Mattress Cost?
The cost of a mattress depends on a number of factors such as materials and quality of construction. Watch the video below for an in-depth explanation of why some mattresses cost more than others.
How to Shop for a Cheap Mattress
An online mattress – also known as a "mattress in a box" or "bed in a box" – may be cheaper, but they offer the same high-quality materials, comfortable designs, and durability of their more expensive competitors. Today's you can choose from hundreds of brands and retailers online.
Buying a cheap mattress online is a fairly straightforward process. First, research affordable mattress options by comparing different brands and models. After narrowing down your final picks, review product materials and specs to see which model offers the right firmness, comfort, and support. To purchase a mattress model, simply select the desired size from its product page and follow the checkout instructions.
Be sure to look for coupons and discounts on the brand's website – these promotions can reduce the bed's asking price by hundreds of dollars. Many online brands also offer sales for certain holidays, such as President's Day, Memorial Day, Independence Day, Labor Day, and Veteran's Day. Sales for consumer holidays like Amazon Prime Day (July 15), Black Friday (the day after Thanksgiving), and Cyber Monday (the Monday after Thanksgiving) are also common.
Mattress shoppers should take many different variables into account in order to choose the best affordable mattress. Some mattress brands can be misleading with their marketing jargon, advertising beds with features like "universal comfort" and "unlimited durability" that simply don't exist. Instead of focusing on inaccurate descriptions, take time to research the following characteristics.
Important Mattress Considerations
Mattress shoppers should take many different variables into account in order to choose the best affordable mattress. Some mattress brands can be misleading with their marketing jargon, advertising beds with features like "universal comfort" and "unlimited durability" that simply don't exist. Instead of focusing on inaccurate descriptions, take time to research the following characteristics.
Price: Factors that contribute to the price of a mattress include type, quality of materials, unique features, and the brand itself. Remember: a low price-point does not necessarily indicate an inferior mattress. Many of the best budget mattress in a box models we've tested rival – if not outperform – their more expensive competitors in terms of comfort, support, and performance.
Sleeping Position: There are certain mattress needs associated with each sleep position. For most side sleepers, a comfortable mattress will cushion the shoulders and hips, align the spine, and reduce pressure throughout the body. Back and stomach sleepers often need more support for the midsection, but contouring – especially around the lower back – is also important.
Mattress Type: Each mattress type offers different advantages. Foam and latex beds contour to your body to support the spine and alleviate pressure points. Innersprings and hybrids are more supportive and responsive, and also usually more breathable. Airbeds can be customized for firmness using adjustable air chambers, making them suitable regardless of your body type and position.
Contouring: Contouring, or conforming, refers to how closely the mattress cradles your body. Beds that offer deep contouring usually rank highest on our pressure relief and motion isolation tests. Models with less conforming feel more supportive for heavier sleepers and tend to sink less along the edges. For many, mid-level contouring is the most balanced and comfortable option.
Quality Materials: Some beds offer more comfort and support due to their high-quality components. High-density memory foam, for instance, provides better body conforming and more motion isolation than beds we've tested using foams with lower densities. Other examples include organic/natural latex, which is very breathable and durable, and zoned coils that provide strong edge reinforcement and enhanced support for your body.
Firmness Level: We measure firmness on a 1-10 scale, with 1 being the softest and 10 the firmest. Softer beds conform more closely and perform better in our pressure relief tests, but tend to sag too much with heavier individuals. Firmer beds offer more support and less conforming, but may feel too hard and dense for our lightweight testers. Most mattresses sold today fall between soft and firm, or 3 to 8 on our 10-point scale, but we've also tested some extra firm models.
Pressure Relief: Mattresses alleviate pressure by cushioning in certain areas, such as the shoulders and hips, while keeping the spine aligned and maintaining even support for your entire body. We've found foam, hybrid, and latex mattresses with thicker comfort layers often provide the best pressure relief.
Edge Support: Some mattresses lack support around the perimeter and tend to sink when you sit along the edges. This can make getting in and out of bed somewhat difficult. Hybrids and innersprings we've tested offer the best edge support due to the thick coil systems reinforcing the edges, whereas all-latex and foam beds tend to sink the most.
Temperature Regulation: A breathable mattress is important, particularly if you naturally sleep hot. Hybrids and innersprings usually perform best in our temperature neutrality tests because their coils promote strong internal airflow to help maintain a comfortable temperature. Our heat guns often detect more heat buildup on foam beds because they absorb and trap body heat.
Motion Isolation: Generally, all-foam and all-latex models earn the highest ratings in our motion isolation category because of their ability to absorb movement transfer. Mattresses with coils like innersprings and hybrids have a more responsive feel that can transfer more movement.
Noise: Most all-foam and all-latex beds perform well in our noise reduction tests. Other mattress types are associated with more noise due to certain components, such as the potentially squeaky coils found in innersprings and hybrids, or the motorized air chambers used in airbeds.
Lastly, it's important to take value into account. Paying a low sticker price for a mattress may be enticing, but a model that wears out after a couple years of use may not be such a good long-term investment. Check out our guide to the Best Mattresses for the Money to learn about affordable mattresses that also offer solid long-term performance.
What Can Affect the Price of a Mattress?
Certain mattress features and characteristics can drive up the price-point by a considerable margin. These include the following:
High-Density Memory Foam: Density refers to how much the foam weighs. It is measured in pounds per cubic foot, or PCF. High-density memory foam has a density of 5.5 PCF or higher. This material is exceptionally durable and will not lose its shape too quickly. It offers great body contouring and performs well in our motion isolation tests. For this reason, expensive memory foam and hybrid mattresses we test are often constructed with high-density memory foam. Low-density (less than 4 PCF) and medium-density (4 to 5.5 PCF) memory foam are more commonly found in cheap mattress in a box models.
Organic and Natural Latex: Latex is a material derived from rubber tree sap. Organic and natural latex are processed with very few chemical agents. These materials are very durable and breathable, and our testers find them responsive. Many mattresses with organic or natural latex layers are priced at $1,600 or higher. Models with blended or synthetic latex usually cost much less, but we've found do not provide as much pressure relief or durability.
Cooling Elements: Some materials may be infused into the cover and/or comfort layer to promote a cooler sleeping surface. Copper is one example. Thanks to its natural conductivity, most mattresses we've tested that use copper-infused foam dissipate surface heat fairly well. Some mattresses are also infused with phase-change material, which is designed to maintain a constant and cool surface temperature throughout the night – no matter how warm you feel.
Zoned Coils: Many low-cost mattresses feature coil systems with a uniform gauge, or thickness, throughout the layer. Zoned coil systems are divided into thickness zones, with thicker coils reinforcing the edges while thinner coils offer gentler support for your body. Models with zoned coils tend to provide the best combination of edge support and sleeper comfort during our tests. Many are expensive, but some models have very affordable price-points.
This list is not exhaustive. If a mattress has a relatively high price-point, be sure to read the specs to see why. The cost may reflect special features like those described above – but in some cases, the bed might be overpriced.
Why Buy a New Mattress?
Investing in a mattress can be a considerable investment, but it's a purchase everyone must make at various points in their life. We polled more than 100,000 Sleep Foundation subscribers to find out some of the top reasons sleepers buy new beds. Read our findings below.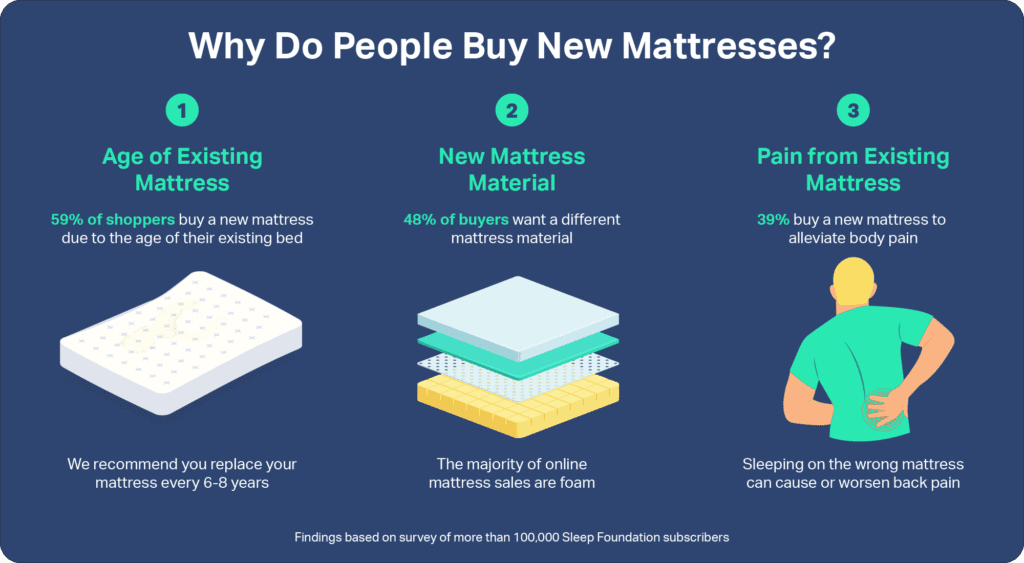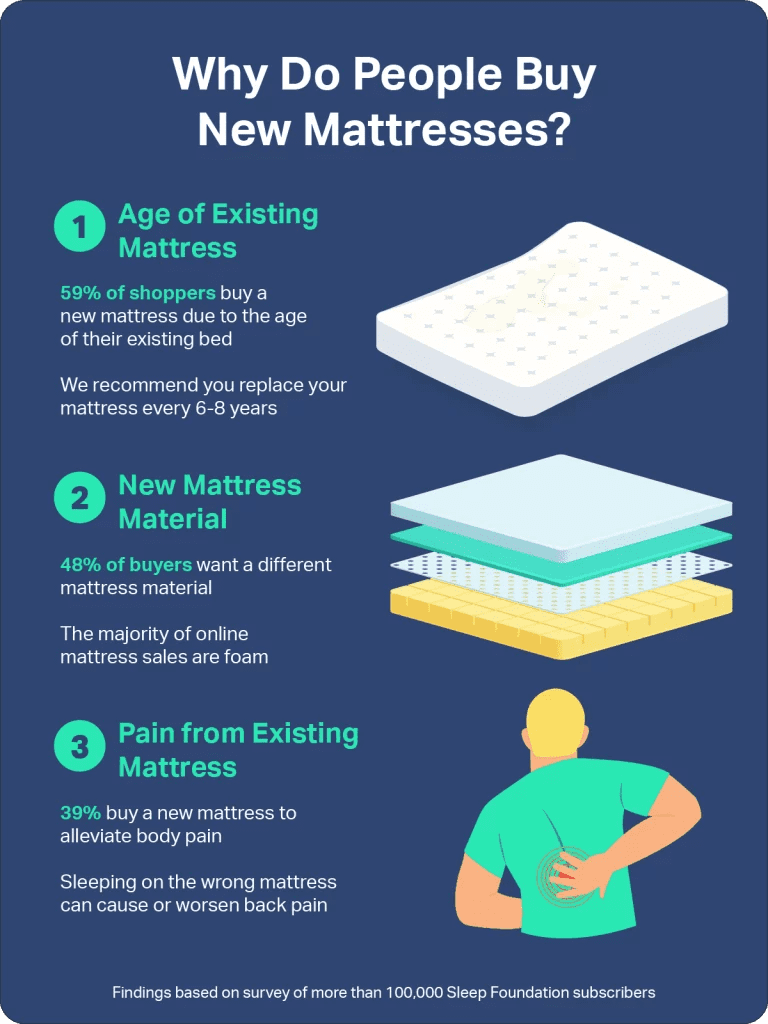 Shipping, Returns, and Warranties
We recommend reading the fine print on a mattress brand's shipping, return, and warranty policies before purchasing a new bed, especially if you are buying online. These policies are fairly consistent across different brands, but careful research will help you avoid hidden fees. This section includes a general overview of what to expect for mattress shipping, returns, and warranties.
Shipping
Options: The vast majority of online brands offer free ground shipping within the contiguous U.S. Some also ship for free to Alaska, Hawaii, and/or Canada. Most standard ground deliveries reach their destination in two weeks or less. If standard shipping will take too long, you may be able to select expedited shipping for an added charge. A third option, if available, is White Glove delivery. This includes in-home assembly and old mattress removal, but the wait time is often longer – typically two to three weeks.
Rates: Standard ground shipping is normally free within the contiguous U.S. Customers in Alaska, Hawaii, Canada, and other non-contiguous locations that qualify for delivery may pay anywhere from $100 to $600 for mattress shipping. Expedited shipping will also incur extra charges, but usually no more than $50. If White Glove delivery is not free, expect to pay at least $150 for in-home assembly and old mattress removal.
Method: For standard ground shipping, the mattress will be compressed with a machine press, wrapped in plastic, and delivered in a compact box. Couriers will leave the box on your doorstep, and a signature will not be required. The same is true for expedited deliveries. White Glove couriers deliver mattresses in trucks, and will not compress the beds for shipping. A signature is usually required for a White Glove delivery and an adult 18 years or older should be at the residence when the couriers arrive.
Returns
Sleep Trial: Online brands usually offer a sleep trial, during which you can test out a mattress, then decide whether to keep the bed, exchange it for a different model, or return it for a refund. Most sleep trials last at least 90 nights, and some span one year or longer. In some cases, you must "break in" the mattress for a certain length of time (usually 30 nights) before you can return the bed for a refund. This allows your body to adjust to the mattress fully before you decide it's not for you.
Cost: Most online mattress brands offer free returns within the sleep trial period. In most cases, the company will send couriers to pick up the mattress from your residence, then transport it for recycling or donation. Alternatively, you may be asked to dispose of or donate the mattress yourself. Returned mattresses are never restocked or resold. Some brands charge return fees, but these charges are usually less than $100.
Refund: Once a mattress has been returned to the company, you should receive a refund on the original form of payment – though this process can take up to 30 days. If you are asked to recycle or donate the mattress, you may need to submit photographic proof to the company.
Exchanges: Some brands allow mattress exchanges during the sleep trial for different models, sizes, or both. Exchanging for a more expensive model will require paying the difference, whereas exchanging for a lower model results in a partial refund.
Warranties
Length: All mattresses come with a product warranty, which covers products that develop defects. Most mattress warranties span 10 years in length, but 15-, 20-, and 25-year warranties are also available. "Lifetime" warranties cover the mattress as long as the original buyer retains ownership.
Costs: If the warranty is non-prorated, then owners do not pay for repairs and replacements of defective mattresses, though you may need to cover shipping and transportation charges for sending the mattress to the manufacturer for defect inspection.
If the warranty is prorated, then you must pay a certain percentage of the original mattress price to replace your bed with a non-defective model. This percentage typically increases on an annual basis. For example, a 20-year warranty with 10 years of non-prorated coverage will become prorated in year 11, when owners typically need to pay 55 percent of the original price (or 5 percent for each year of ownership) to replace their mattress. In year 12, they will pay 60 percent. This rate increase will continue until the warranty expires.
Covered Defects: Most mattress warranties list all covered defects. These often include measurements for indentations in the surface that indicate a defect, also known as a "sagging depth." Other recognized defects may include physical flaws in the mattress that cause early deterioration and manufacturing defects with the cover. On the other hand, physical damage that occurs due to inadequate foundational support or owner abuse is never covered. Additionally, warranties will not cover issues that arise over changes in the owner's personal mattress preferences.
Additional Mattress Costs
In addition to potential shipping, return, and warranty costs – as well as the mattress itself – you may face other expenses when purchasing a new bed. Please consider the following add-ons when selecting a mattress.
Foundations and Bed Frames: Support systems for mattresses include box springs, wood or metal frames, platform beds, and adjustable bases. These support systems must match the mattress size. The warranty may also carry certain requirements about mattress support, such as the maximum width between frame slats or a minimum number of legs.
In-Home Assembly: White Glove delivery can be a good investment if you cannot or prefer not to set up your mattress. This type of delivery includes full assembly, often in a room of your choice. Services may also include old mattress removal either for an added fee or no extra charge. White Glove delivery may cost anywhere from $100 to $600, depending on the brand, but some offer it for free.
Old Mattress Removal: Old mattress removal is not available with standard shipping because third-party ground couriers (such as FedEx and USPS) handle the delivery. In most cases, you will need to select White Glove delivery. The cost of White Glove delivery with old mattress removal is usually $150 or more, unless the brand offers it free of charge.
Bedding: If you're buying a mattress in a different size or thickness from your current mattress, you will likely need to purchase new bedding such as sheets, duvet inserts, and duvet covers. These costs can add up, so you may want to factor them into your overall mattress purchase.
The Best Types of Budget Mattresses
The majority of models sold today fall within one of five categories: hybrid, innerspring, latex, airbed, and foam. These categories are fairly consistent in terms of general construction and materials. However, every individual model offers a unique design and you will notice significant variations within each mattress type. In this next section, we'll take a closer look at each mattress type.
Hybrid
Definition: A hybrid is composed of thick memory foam or latex comfort layers, along with a support core of pocketed coils. The hybrid design differs from traditional innersprings with relatively thin comfort layers and open coils. Although softer and firmer hybrids are available, most models we've tested have a feel that falls between medium soft and medium firm.
Innerspring
Definition: The oldest type of mattress still sold today (as well as the cheapest), innersprings consist of foam comfort layers over support cores of open bonnell, offset, or continuous wire coils. Our testers describe innersprings as somewhat firm and very responsive, resulting in an exceptionally bouncy surface.
Latex
Definition: Latex, a material produced from rubber tree sap, is naturally durable and resilient. Latex mattresses often have very long lifespans compared to other beds. The material gives the surface a very responsive feel. Latex is also breathable, resulting in above-average marks in our temperature neutrality tests.
Airbed
Definition: Airbeds feature motorized air chambers in their support cores. You can add or remove air from these chambers to adjust the overall firmness of the mattress. Standard airbeds contain at least two chambers, but some have six or more. Airbeds may also be equipped for different firmness levels on each side.
Foam
Definition: Foam mattresses may be built with comfort layers of polyfoam or memory foam. Those that contain both materials in the comfort system are known as mixed-foam models. The support core is always made of high-density polyfoam, and dense transitional layers may also be included for extra sleeper support.
How to Get The Best Deal on a Mattress
The cost of a mattress often depends on where and when you look for a new bed. We recommend online brands since they tend to be much cheaper than brick-and-mortar sellers. Additionally, you can save money with holiday sales, comparison shopping, and bundling.
Holiday Deals and Sales
Online mattress brands frequently offer sales and promotions that align with holidays. These sales will be prominently advertised throughout the company's website, including the homepage and individual product pages. Many brick-and-mortar sellers offer holiday sales as well, but you may need to contact or visit the store to learn about these promotions.
In the next section, we'll take a closer look at what to expect from different holiday sales.
Do Your Homework
As with other products, finding cheap beds online requires extensive research into different brands and models. When browsing mattress websites, we recommend keeping an eye out for the following:
Coupons and Discounts: Many brands offer checkout codes that you can apply to your final purchase. These codes may knock a flat dollar amount off the original price or cut it by a certain percentage. Either way, coupons and discounts can save you hundreds of dollars.
Bundling: Online mattress brands frequently offer sheet sets, pillows, foundations, and other bedding accessories. Some will offer bundle deals that allow you to purchase a mattress and an accessory at a discounted rate compared to buying the two items individually. Brands may also include free pillows, mattress protectors, and other products with a mattress purchase.
Price Matching: Some mattress brands will match competitor prices for certain beds. This is more common for brick-and-mortar sellers, but many online brands offer price matching during holiday sales.
Although buying a mattress online is usually the cheapest option, brick-and-mortar stores have one notable advantage: price negotiation. In their quest to complete a sale and receive their commission, sales staff may knock down the price of a new bed.
What Not to Do When Shopping for Cheap Mattresses
Price-points are typically a primary factor for shoppers when narrowing down mattress choices. In the video below, we offer some tips on what not to do when shopping for a bed that's both affordable and well-suited for your needs.
Other Articles of Interest