"Mattress in a box" is a catch-all term for any bed shipped directly to customers, and a recent boom in the online mattress industry has resulted in a vast number of beds in boxes to choose from. Prior to shipping, the mattress is compressed and vacuum-sealed in plastic. Mattresses begin to expand after you unbox them and are usually ready to use within 24 to 48 hours.
Our testing crew has evaluated hundreds of online mattresses, and below are our top picks. We looked closely at how each mattress is constructed and how firm or soft it feels for different body types. Our testing team is made up of people with varying body types and preferred sleep positions. This helped us incorporate feedback from a range of sleepers. We also factored in how cool the bed surface felt, how much it cost, and how durably it was designed.
Watch Video: We Tested the Best Mattresses in a Box – Here Are Our Favorites
Watch our video below to learn more about our lab's top picks for mattresses in a box.
Below you'll find in-depth looks at each of our top picks, but keep scrolling to check out our guide to buying mattresses in a box. The guide offers all sorts of helpful information about the mattress delivery process, pros and cons about different mattress types, and answers to common questions about mattresses-in-a-box.
Our Recommendations
Helix Sleep's mattress lineup includes more than a dozen hybrid models specifically designed for certain types of sleepers. The Helix Midnight is a versatile model that feels comfortable for a wide array of sleepers, but our testing shows that it's particularly well suited for side sleepers. Its versatility can be attributed to a balanced medium firm (6) feel that combines the contouring of memory foam with robust coil support.
How It Performed
Our testers awarded the Midnight above-average ratings for pressure relief compared to other hybrids. The foam layers provided even cushioning for areas of the body prone to pressure buildup, such as the shoulders and hips. The transitional foam also served as a buffer for the support core, so testers up to 230 pounds didn't sink too deeply into the mattress.
Edge support was another strength of the Midnight during our tests. Reinforced coils around the bed's perimeter allowed testers to use the entire surface of the mattress, so you shouldn't feel confined to the middle during sleep or sex. Steady airflow through the coils also helps the mattress sleep cool.
What It's Made of
The mattress begins with a comfort layer of memory foam that conforms closely to your body, followed by a transitional polyfoam layer that provides additional contouring but also pushes back a bit more than the memory foam. Individually pocketed coils reinforced with high-density polyfoam make up the support core. The reinforced perimeter coils create pushback when you sleep near the edges of the mattress or get in and out of bed. A stretch-polyester cover encases the entire mattress.
The Midnight has a below-average price-point for a hybrid model and Helix Sleep offers free ground delivery to all 50 states. You'll receive a 100-night sleep trial that includes free return shipping. If you decide to keep the mattress, you'll also receive a 10-year manufacturer's warranty.
The Nectar is one of our best mattress in a box picks for sleepers on a budget seeking a high-performance memory foam model. The side sleepers on our team received ample cushioning for the shoulders and hips, ensuring good spinal alignment and less pressure, while the back and stomach sleepers felt even body-conforming without sinking too much.
How It Performed
Our testing showed that the Nectar isolates motion very well, which means testers barely felt each other's movements when sharing the bed. This should cut down on sleep disruptions for couples. We also found the edge support is better than average for an all-foam model, thanks to a fairly thick support core that stabilizes the bed and reinforces the perimeter against excessive sinkage. Like other all-foam mattresses we've tested, the Nectar absorbs a fair amount of body heat and may sleep a bit warm for some.
What It's Made of
This model features a thick comfort layer of memory foam over two layers of denser polyfoam. A cover made of polyester, nylon, and polyethylene encases the entire mattress. Our testers rate this bed as medium firm (6), resulting in a comfortable balance of conforming and support for sleepers across different body type and position groups. The Nectar is much cheaper than other memory foam mattresses we've seen on the market, making it a high-value pick.
Nectar backs the mattress with a 365-night sleep trial and a lifetime warranty, both of which are much longer than average. Nectar offers free delivery to customers anywhere in the contiguous U.S.
The DreamCloud Mattress is a luxury hybrid mattress that stood out to our testers for its impressive balance of support, pressure relief, and temperature neutrality. We found this mattress had a medium firm feel (6 out of 10), with a plush quilted surface and tall profile.
How It Performed
When our testers lied on the mattress, it conformed moderately to the body but didn't produce that "sinking" feeling that we've observed in softer mattresses with foam layers. Performance-wise, the DreamCloud is a great all-around mattress, earning especially strong ratings for pressure relief, temperature control, and ease of movement. We recommend this mattress for most sleeper types except for side sleepers under 130 pounds.
What It's Made of
The DreamCloud's cover is made of a cashmere poly-blend fabric quilted with a polyfoam layer. Our test team found the surface very breathable and plush, and the gel-infused memory foam under the quilted cover offered excellent pressure relief. Beneath is a transition layer of polyfoam and a support core containing individually wrapped coils.
For a luxury mattress, the DreamCloud is fairly affordable, coming in at an average price-point for a standard hybrid bed. DreamCloud stands behind the mattress with excellent guarantees, which include a 1-year sleep trial and a lifetime limited warranty.
We've tested hundreds of beds, and the WinkBed stands out as a hybrid mattress that most sleepers should find comfortable. Four firmness levels — medium soft (4), medium firm (6), firm (7), and extra firm (8) — ensure back, side, and stomach sleepers from multiple weight groups are likely to find a WinkBed that fits their needs.
How It Performed
The WinkBed caters to different sleeper types based on the firmness level you pick. During our tests, we found that back sleepers under 130 pounds and most side sleepers preferred the medium soft bed. The medium firm option offered an even balance of cushioning and support, so this was the most universally comfortable model. Back and stomach sleepers weighing at least 130 pounds enjoyed the even sleep surface from the firm option, and the extra firm WinkBed Plus earned the highest marks from testers who weighed over 230 pounds.
All models performed well in our motion isolation tests, but couples seeking greater motion isolation may prefer the softer model. The cushioned surface greatly reduced motion transfer when two or more testers shared the bed. The WinkBed also performed well in our temperature regulation tests. Air circulates easily within the mattress' coil core, and the Tencel cover offers additional cooling.
We found edge support to be another strength of the WinkBed. The coils are reinforced along the perimeter to provide pushback and reduce sinkage.
What It's Made of
The Euro-top is quilted with gel-infused polyfoam, which cushioned sharp pressure points during our lab tests. The cooling gel infusions are designed to absorb and dissipate excess body heat. Next is a layer of SupportCell polyfoam that kept our testers' body weights evenly distributed across the mattress surface. The medium soft model has an extra transitional layer made from polyfoam for added plushness, and the Plus model features latex in lieu of foam for enhanced support. The zoned, pocketed coil support core helped maintain spinal alignment for our testers, and the Tencel fabric cover kept the surface cool and breathable.
The WinkBed ships for free to states within the contiguous U.S. and includes a 120-night sleep trial. If you aren't satisfied with your initial firmness selection, you may exchange the mattress for a softer or firmer model at no extra cost, and the replacement comes with its own 60-night trial. All models are backed by lifetime warranties.
A mattress that promotes even alignment can be highly beneficial for people who experience soreness in their lower back during the night. Our test lab found that the Nolah Evolution 15 serves these sleepers well thanks to a plush pillow-top surface and a robust support core containing zoned pocketed coils. The mattress is available in medium (5), medium firm (6), and firm (8) models, so most people will find a comfortable option regardless of how much they weigh or which sleep position they prefer.
How It Performed
Performance ratings for the Evolution 15 largely depend on the firmness level. The medium feel earned the most favorable ratings from side sleepers on our test team weighing up to 230 pounds and back sleepers under 130 pounds. We noticed that this model also excels at motion isolation and pressure relief. The medium firm and firm versions fared better with testers who sleep on their back or stomach and weigh 130 pounds or more. We found that these models also offered very strong edge support, good responsiveness for sex, and easy movement across the surface.
All Evolution 15 models earned stellar ratings from our testers for temperature control, though the two firmer options took a slight edge over the medium feel. The combination of a cooling cover, breathable open-cell foams, and a coil system that promotes steady airflow makes the Evolution 15 one of the most comfortable mattresses we've tested for hot sleepers.
What It's Made of
The Evolution 15 features 2 inches of adaptive foam quilted into the Euro-top, followed by a proprietary AirBreath border gusset designed to maximize airflow and reduce heat buildup. Next is a second comfort layer of AirFoamICE, an open-cell foam infused with graphite for added cooling. Two layers of denser foam provided transitional support that kept our testers on an even plane.
In the support core, thicker coils are used in the midsection to provide extra reinforcement and pushback in the area where most people carry a disproportionate amount of weight. Sturdier coils along the perimeter reduced sinkage when our testers got on and off the mattress. The foundational layer is composed of plant-based fiber. A cover made of breathable ArcticTex fabric encases the mattress, and each side is equipped with handles to aid you with lifting and moving.
The Evolution comes in seven sizes, including a split king. Nolah provides free ground delivery for all orders in the contiguous U.S. The company also offers a 120-night sleep trial, but customers can forgo the trial period and reduce their up-front cost by up to $150. The Evolution 15 is also backed by a lifetime warranty against structural defects.
If you're a combination sleeper, you may find your firmness preferences vary with each position change. The reversible Layla Hybrid features two sleep surfaces, one medium soft (4) and the other firm (7). Our testing shows the latter offers adequate support for most back and stomach sleepers, while the softer side contours deeply to promote even alignment for side sleepers.
How It Performed
After testing both sides of the Layla Hybrid, we found our side sleepers generally preferred the medium soft surface. This was especially true for those weighing up to 230 pounds. Thick foam layers ensure close conforming to improve alignment and reduce pressure points in the shoulders and hips, a common side effect from using the side position. Our tests also showed the firm side was more comfortable and supportive for back and stomach sleepers of at least 130 pounds, and side sleepers weighing more than 230 pounds.
Temperature control was a highlight of our tests. Using heat guns and thermal body sensors, we detected minimal heat retention on the softer side and next to none on the firmer side. Motion isolation was another strength of the Layla Hybrid. Our testers noticed very little motion transfer when lying next to each other on either side of the mattress.
What It's Made of
The Layla Hybrid's medium soft side contains 2.5 inches of copper-infused memory foam, followed by 2 inches of transitional polyfoam. The latter is zoned to provide extra reinforcement for your midsection and gentler cradling elsewhere. The firm side also features these components, but the layers are thinner to minimize cushioning and make this surface feel more supportive. A shared pocketed coil support core is located between the foam layers. The coils are doubled up along the perimeter to reduce sinkage when you lie or sit along the edges.
The copper infusions are meant to reduce heat buildup on the surface, and a breathable polyester-viscose cover encases the entire mattress. You can unzip and machine wash the polyester, rayon, viscose, and poly-lycra blend cover whenever it needs to be cleaned. Comparatively, most mattresses made today feature non-removable covers that can only be spot cleaned.
The Layla Hybrid is competitively priced and shipping is free for all customers in the contiguous U.S. Your order includes a 120-night sleep trial, during which you can return the mattress for free if it doesn't meet your needs. If you decide to keep the hybrid, Layla backs your purchase with a 10-year manufacturer's warranty.
Many hybrid mattresses may feel overly firm for sleepers who prioritize pressure relief, but the Casper Snow offers the best of both worlds when it comes to support and cushioning. With a medium (5) feel, the mattress features a thick foam comfort system that conforms to your body while a sturdy support core prevents you from sinking excessively.
How It Performed
Our testing team was very impressed with the Casper Snow. The most favorable ratings came from our side and back sleepers weighing up to 230 pounds. These sleepers received plenty of cushioning for their shoulders, hips, and spine, which are common areas of pressure buildup for side and back sleeping. Meanwhile, the sturdy coils ensured their bodies didn't sink too deep.
Our testers didn't notice too much motion transfer when lying side by side, and the coils provided a bit of responsiveness without making the surface feel overly bouncy. Temperature control was another highlight during our tests. Proprietary HeatDelete bands are placed between the foam layers to reduce heat buildup, while a cooling cover and phase change material in the foam help regulate temperature.
What It's Made of
The Casper Snow's comfort system features a layer of AirScape polyfoam with a perforated construction, which is intended to promote better airflow. This is followed by a memory foam comfort layer with a zoned design meant to enhance support to areas that need it, such as the lower back. The support core contains pocketed coils over dense base foam. High-density foam reinforcement along the edges helps stabilize the perimeter and push back against your weight when you sleep near the edges. The cover is made from a specialized fabric that's engineered to cool your body.
Casper ships free to customers in the contiguous U.S. You'll receive a 100-night sleep trial with your mattress, and a 10-year warranty against structural defects.
Sleepers who frequently switch between different sleeping positions often benefit from a mattress with a balance of cushioning and support. The Bear Elite Hybrid is a foam hybrid with three firmness options, so most members of our testing team found a model that felt comfortable regardless of their sleeping position. The bed also stands apart with a set of cooling features that our hot-sleeping testers enjoyed.
How It Performed
The foam layers earned the bed high marks in our pressure relief tests, making this an ideal bed if you experience painful pressure buildup at night. At the same time, the bed also offers plenty of support, thanks to the coil system. The medium firm (6) option was the most universally appealing model among our testers, earning high marks from back sleepers up to 230 pounds and side sleepers over 130 pounds. The medium (5) option was favored by side and back sleepers up to 130 pounds, while the firm (8) model performed well with back and stomach sleepers over 130 pounds.
Cooling was one of the Bear Elite Hybrid's major strengths during our tests. The cover is composed of phase change material and Celliant fabric, intended to wick moisture and maintain temperature neutrality. The coils also allow air to circulate through the bed. Our heat guns detected minimal heat buildup on the surface. If you and your partner prioritize a responsive surface for sex, you may also enjoy the bounce from the coil system.
What It's Made of
With several firmness options available, the mattress appeals to sleepers with various body types and sleep preferences. Underneath the Euro-top cover is adaptive memory foam, which cushions the body and gently relieves pressure. This layer features a copper infusion designed to help regulate temperature. Next is a layer of polyfoam that further promotes contouring but also has a responsiveness to prevent excessive sinkage. Beneath is a pocketed coil support core, which reinforces the mattress and delivers sturdy but responsive support. The coils rest on a base layer of polyfoam for stability.
Seven sizes are available for the Elite Hybrid, including a split king for couples who share adjustable beds. If you and your partner have differing firmness preferences, you can order a split king with a different feel on each side. Bear offers a 120-night sleep trial with the Elite Hybrid, as well as a lifetime warranty. Shipping is free within the contiguous U.S.
The Emma CliMax Hybrid is a foam-and-coil mattress with a strong base that provides ample support for sleepers across weight categories, including those over 230 pounds. While some sturdy beds sacrifice cushioning for support, this model has a thinner coil layer and plush foam surface to cradle pressure points on your body.
How It Performed
The mattress has a medium firm (6) feel that delivers more pressure relief than many hybrids we've tested. The foam comfort layers conform to your body to relieve pressure in sensitive areas like the shoulders, hips, or spine. The minicoil layer is supportive yet responsive, enhancing pressure relief while delivering the support you'd expect from a hybrid. The highest ratings came from side sleepers, especially those between 130 and 230 pounds, since this group received just the right amount of contouring and support from the mattress during testing. However, back and side sleepers over 230 pounds also found the bed comfortable.
What It's Made of
The Emma CliMax Hybrid features a top foam layer that contours closely and helps reduce motion transfer across the surface. Beneath is a transition layer with a zoned design that enhances pressure relief and support where they are most needed on your body. The mattress stands out from other hybrids for its unique minicoil layer, which is thinner than coil layers you'll find in most hybrid models. This is followed by a high-density polyfoam layer to generate firm support. The removable cover is machine-washable for easy care.
The CliMax Hybrid has a reasonable price-point, and Emma offers a generous 1-year trial to test the mattress at home. It's further backed by a 10-year warranty. Shipping is free to addresses in the contiguous U.S.
Many luxury mattresses on the market today carry steep sticker prices. While the Birch Luxe isn't exactly cheap, the mattress costs much less than the average latex hybrid. A slew of cooling materials also make the Luxe a good choice for hot sleepers, people who sweat at night, and those who reside in exceptionally warm or humid places.
How It Performed
The Birch Luxe earned strong sleeper ratings across the board during our tests. Our side sleepers weighing at least 130 pounds, and back and stomach sleepers weighing 130 to 230 pounds, were particularly impressed. The medium firm (6) feel and gentle contouring make the mattress a good option for anyone who needs some cushioning to sleep comfortably, but dislikes the deep hug of memory foam.
Our tests show cooling is one of the Luxe's standout qualities. We've attributed this to the moisture-wicking wool and cashmere batting layer, a latex layer that retains minimal heat, pocketed coils to generate steady airflow, and a breathable organic cotton cover. Since latex is naturally responsive, we also recommend the Luxe to people who prefer sleeping "on" — as opposed to sleeping "in" – their mattress.
What It's Made of
The Luxe begins with four batting layers. The topmost layer consisting of wool and rayon serves as a natural fire barrier, while the next three layers contain wool and cashmere to help keep the surface cool. Proprietary Pulse latex makes up the main comfort layer. This material offers a balance of cushioning and bounce to soothe pressure points and help you move across the surface with ease.
The support core contains pocketed coils over a base layer of wool and rayon batting, the latter of which provides additional fire protection. The coils are zoned to provide extra reinforcement around the lumbar region — a handy feature for people who live with lower back pain. The latex and cotton are certified by the Rainforest Alliance and GOTS, respectively, ensuring these materials have been sustainably sourced.
Birch offers free shipping to all 50 states, and each order includes two pillows at no extra cost. You'll receive a 100-night sleep trial with your Birch Luxe, and a 25-year warranty if you choose to keep the mattress.
Most mattresses made today fall between 4 and 6 on the 10-point scale, making it somewhat difficult to find a suitable bed if you want a firmer feel. The Plank Firm Luxe from Brooklyn Bedding is a flippable mattress with a distinct feel on each side. Our testers found that the firm (7) side contours to a minimal extent while providing sturdy overall support, while the extra firm (9) side barely conforms at all.
How It Performed
As a mattress designed to feel exceptionally firm, we found that the Plank Firm Luxe excelled in some areas where softer models usually fall short. Both sides felt very sturdy along the perimeter and did not sag excessively when our testers lied near the edges or got in and out of bed. Temperature control was another major strength during our testing. The coil layers promoted steady circulation to cool off the interior of the mattress, and the firm surfaces ensured that our testers did not sink too deeply and lose their surface airflow. Those who sleep excessively hot should consider purchasing the optional phase change cooling panel.
Our testing found back and stomach sleepers feel most comfortable on the Plank Firm Luxe. This is especially true of those who weigh more than 230 pounds, but testers who favor these positions and fall within the range of 130 and 230 pounds also gave the mattress generally favorable reviews.
What It's Made of
The firm side of the Plank Firm Luxe features adaptive foam quilted into the cover, followed by a comfort layer of TitanFlex polyfoam and a transitional layer of high-density polyfoam. Our testers noticed that this side combines the contouring of memory foam with the responsiveness of latex. The extra firm side has less foam quilted into the cover and does not include a TitanFlex layer, which our testers found distinctly firmer than the opposite surface. A shared support core of pocketed coils stabilizes both sides of the mattress.
You can choose to add a GlacioTex cover featuring panel of phase change material, which is sewn to the fabric on both sides. This cooling component is engineered to capture and release heat, which helps maintain a comfortable surface temperature. The panel increases the mattress' price by $100 to $200, depending on which size you select.
Shipping is free of charge for all customers in the contiguous U.S. The Plank Firm Luxe is backed by a 120-night sleep trial and a 10-year warranty.
Data-Driven Results You Can Trust
Our experienced team of experts is committed to bringing you accurate, unbiased information about different sleep products. Every mattress we review undergoes rigorous hands-on testing to determine its key strengths, as well as shortcomings that can negatively affect your sleep experience. For the selections above, we've exclusively focused on mattresses from online brands that are compressed and vacuum-sealed for shipping.
We also pull from other internal and external sources to gather qualitative data that informs our picks. Our team then combines this data with results from our hands-on tests to ensure our ratings are as balanced and well-informed as possible.
How Our Testing Process Works
Our multifaceted testing process allows us to evaluate mattresses for different performance areas such as durability, pressure relief, edge support, and temperature control. Our team consists of testers with different body types and position preferences, so our results should represent the majority of sleepers today. We've tested more than 200 mattress-in-a-box options to bring you these top picks, and we'll continue to reassess and update our list if our findings change.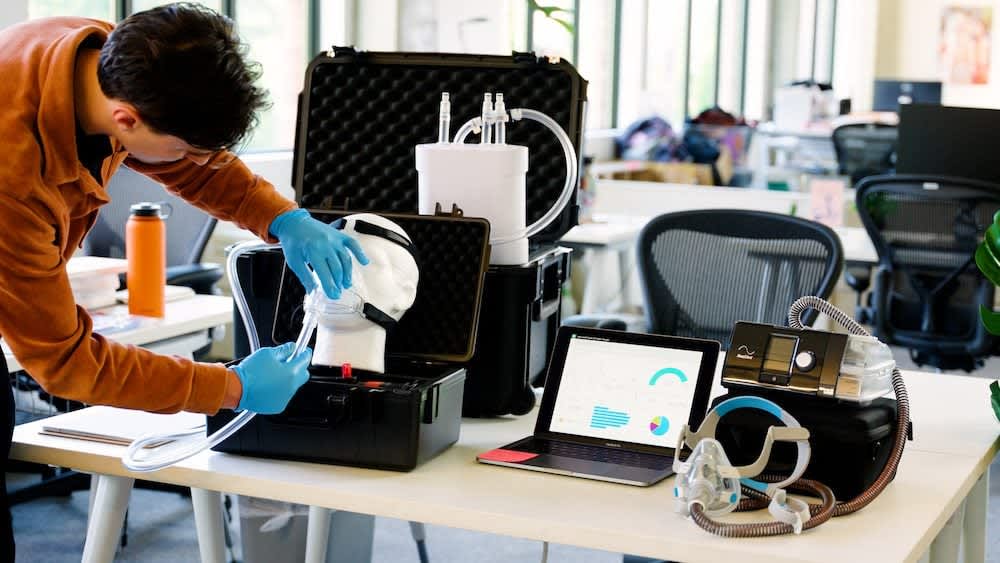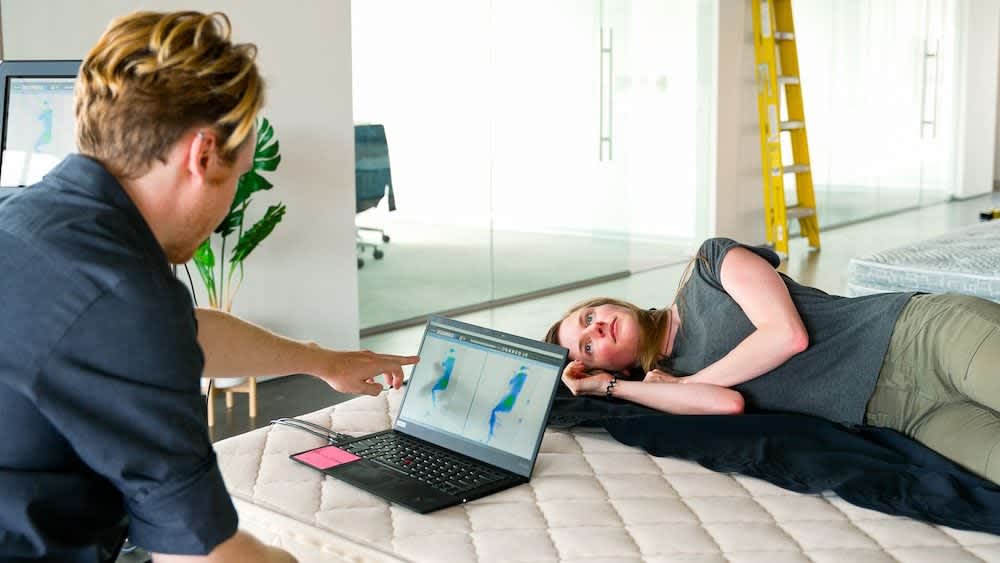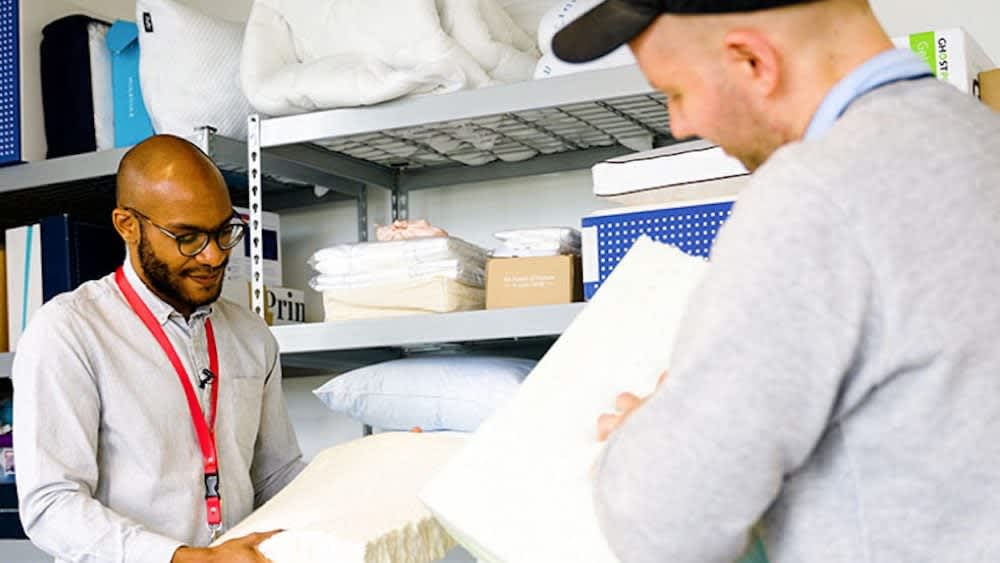 More information about our product research methodology is detailed below:
Dive Deeper – In-Depth Mattress Guides
If you'd like to expand your search for a bed beyond a mattress in a box, take a look at our other recommendations conveniently sorted by mattress type.
Buying Online vs. Brick-and-Mortar Video
What is a Mattress in a Box?
The term "mattress in a box" refers to any model from an online mattress brand that is compressed and placed in a box for delivery. The term "bed in a bag" may also be used. These mattresses are comparable to models sold in brick-and-mortar stores in terms of construction and performance. The key difference is pricing. Mattresses in a box are an ideal choice for shoppers who'd like to save money and who prefer the convenience of delivery to your home.
Preparing a mattress for shipping in a box is fairly straightforward. The mattress is compressed using a large press, encased in plastic, and rolled into a cylindrical shape. This process – also known as "roll packing" – reduces the mattress to a much more compact size, allowing it to fit in a box that can be shipped via standard ground delivery.
A common misconception among consumers is that roll packing causes permanent damage to the mattress. However, mattresses in a box are designed to be highly resilient. Once the plastic wrapping is removed, the layers will expand until the bed reaches its full intended shape. The foams, coils, and other components should fully recover in one to two days without any sort of damage.
What Are the Benefits of Buying a Mattress in a Box?
There are many reasons to choose an online mattress brand over a brick-and-mortar seller. These include the following:
Lower prices: As we mentioned above, mattresses in a box tend to be fairly inexpensive compared to models sold in stores. This is largely due to higher overhead costs for brick-and-mortar brands, who need to operate physical locations and employ a large number of sales staff.
More convenient shopping: Online mattress purchases can be completed with a few mouse clicks, and do not require any store visits. Buying online can be especially beneficial for people who live in rural areas.
No sales staff: Most brick-and-mortar mattress stores employ salespeople who work on commission. These employees are certainly knowledgeable about products and often helpful sources of information for buyers. However, some customers find mattress sales staff a bit too pushy. Online brands often offer live web chat with customer service personnel, but shoppers can browse the website and ask questions as they arise without feeling pressure from salespeople. Most mattress websites also contain detailed product specs and images shoppers can use to compare different brands and models.
Free delivery: Thanks to the compression process, mattresses in a box can be shipped for free via FedEx, USPS, and other ground couriers. Online brands generally offer free delivery throughout the contiguous U.S., and some extend this to customers in Alaska, Hawaii, U.S. territories and/or Canada. A small number of online brands offer free White Glove delivery, which includes in-home assembly and old mattress removal. However, most charge an extra fee for this service.
Sleep trials: Many consumers are apprehensive about buying a mattress they haven't personally tried. At brick-and-mortar stores, customers may test out a variety of models. However, lying on a mattress for a few minutes may not provide an accurate representation of how the bed feels night after night. We've found that most online brands offer sleep trials that allow customers to test out a mattress for a certain length of time, during which they can decide whether to keep the mattress, return it for a refund, or (if available) exchange it for a different model. Most sleep trials run at least 90 nights, and some span up to one year in length.
Why Buy a New Mattress?
Although mattresses-in-a-box are often less expensive, we understand that buying a new bed can be an investment. If you're unsure whether or not you need a new mattress right now, take a look at the following reasons many people replace their mattresses.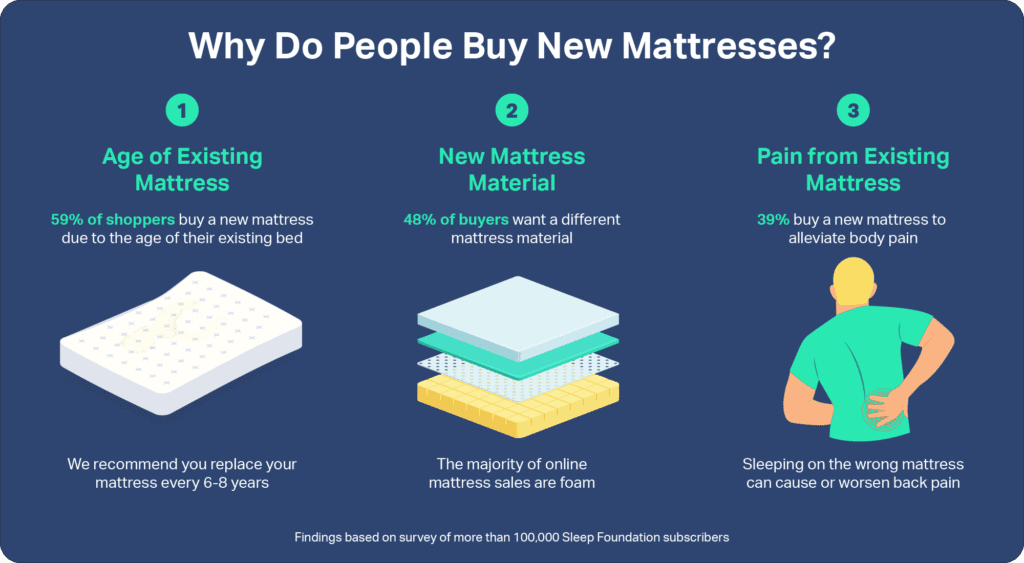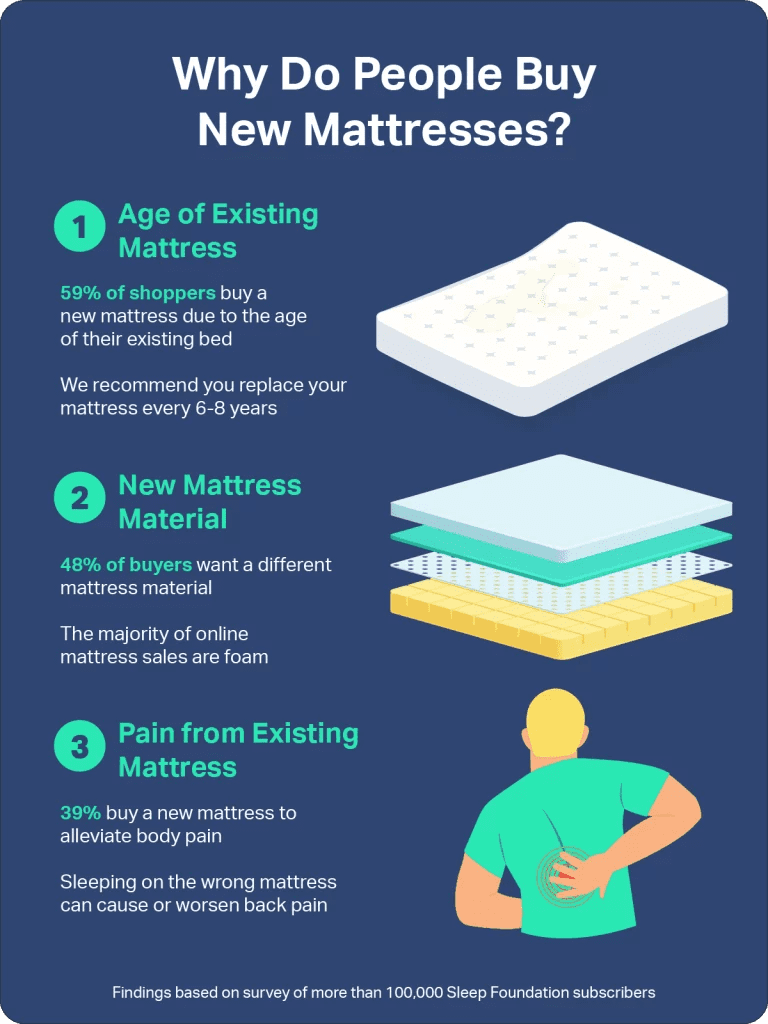 How to Buy a Mattress in a Box
Weighing your own needs and preferences as a sleeper is key to finding the right mattress in a box. Every mattress is uniquely constructed and suits some sleepers better than others. The ideal mattress for you will likely depend on factors like body type, sleep position, and the local climate where you live.
If you weigh less than 130 pounds, sleep on your side, or experience pressure points along your spine, our testing shows you'll probably feel most comfortable on a softer mattress. Our testers who weigh more than 230 pounds and sleep on their back and/or stomach tend to prefer a firmer mattress instead, while those in the range of 130 to 230 pounds usually enjoy medium to medium firm mattresses.
From there, you should take other variables into account. If you sleep with a partner, then you may need a mattress that isolates motion well. Those who reside in hot or humid environments should also consider a mattress with cooling components. Once you've nailed down these personal criteria, you can follow these steps to complete your purchase:
Research different brands: In order to find the most suitable mattress, shoppers should take time to learn about different models. This can help understand differences in construction, pricing, and performance. Some of the best-known online mattress companies include Allswell, Brooklyn Bedding, Casper, Nectar, Saatva, and Tuft & Needle, but buyers can choose from hundreds of brands.
Review the top pick(s): After extensive research, shoppers should be able to narrow down their options to one or two mattresses. Spend a few more minutes reevaluating these models to ensure they are the best choices. Online product specs and images, as well as mattress in a box reviews, can be very helpful during this step.
Chat with customer support: Most online mattress brands offer some sort of live web chat with customer service representatives. They can answer any lingering questions about your top mattress picks. If webchat isn't available, consider emailing or calling the company's customer service department.
Look for promotions: Online mattress brands often offer coupons and discounts for certain models. In most cases, the details for these promotions will be prominently displayed on the bed's product page or elsewhere on the company's website. These discounts may amount to hundreds of dollars off the original asking price. Additionally, purchasing a mattress during a holiday sale can result in big savings. Sales are commonly held during major holidays such as Presidents' Day, Memorial Day, July 4th, Labor Day, and Veterans' Day, as well as major shopping days like Amazon Prime Day, Black Friday, and Cyber Monday.
Buy the mattress: As they would on other vendor websites, customers should select the mattress they want in their desired size. They will be redirected to a purchasing page to enter their name, address, phone number, and payment information. They may also be asked to select a shipping method if more than one is available. After all of the required information has been entered, customers may complete their purchase. They should receive a confirmation email from the brand shortly thereafter.
Unboxing
Mattresses in a box may be removed from their packaging as soon as they reach the customer's residence. The process for unboxing a new bed is as follows:
Bring the box to the bedroom where the mattress will be used. Though compact, the box may be quite heavy since compressing the mattress does not affect its overall weight (a queen mattress can weigh at least 75 pounds). We've found that two or more people may be needed to carry the box into the bed's intended room.
Open the box and remove the roll-packed mattress. We recommend depositing it onto the foundation or base on which it will be used, since the bed may be more difficult to move once it fully expands.
Carefully cut through the layers of plastic with a pair of scissors. The plastic is somewhat thin, so do not let the blade come into contact with the mattress itself. There will be multiple plastic layers. Before cutting the final layer, unroll the mattress until it is flat and arrange it on the foundation with the head and foot in their appropriate positions. Also, make sure the mattress is not upside down.
Cut the final plastic layer. The mattress will immediately begin to expand, but it will not be ready for use. The shape recovery process may take anywhere from 6 to 48 hours, depending on the mattress. Don't worry if the mattress feels excessively saggy at first – this simply means more recovery time is needed. When the mattress feels supportive and comfortable, it's ready to sleep on. This usually happens on the first day.
Don't wait too long to unbox the mattress. Leaving a bed in its box for 2 weeks or longer can cause permanent structural damage. Many mattress brands specify the maximum number of days a mattress can remain in its original packaging. If the bed is not unboxed during this time and damage occurs, the warranty may be voided.
Off-Gassing
Most new mattresses emit off-gassing smells due to volatile organic compounds (VOCs), which are released when the bed is unboxed. VOCs are relatively harmless but they carry a distinct chemical odor that many people find unpleasant. In most cases, mattresses will stop producing these smells after a few days, if not sooner. However, some mattress materials are associated with stronger and/or more persistent odor.
Models with foam layers tend to emit more off-gassing smells. Memory foam and all-polyfoam mattresses usually receive the most odor-related complaints from owners. Innersprings, hybrids, and airbeds may also carry off-gassing smells due to foam components in their comfort and transitional layers, but their coil systems often promote strong airflow to make odors dissipate more quickly.
According to our research, the fewest reports of bothersome off-gassing smells come from latex mattress owners. Although organic and natural latex can carry a rubber-like odor, these materials do not produce VOCs. That said, mattresses with synthetic or blended latex may emit VOCs due to certain chemical fillers in the latex foam.
Off-gassing is rarely a serious long-term issue for mattress owners, but those who are sensitive to strong smells may find memory foam or all-polyfoam beds a bit overwhelming. We recommend a latex, innerspring, hybrid, or airbed model to these individuals instead.
Foundations and Platforms
Rather than placing a mattress directly on the floor, many owners support their bed with a base of some kind. Options for these support systems include:
Box spring: Most box springs feature a wooden frame and steel springs encased in a cloth cover. Some newer models have metal frames, as well. Box springs usually measure between 5 and 9 inches thick. They provide sturdy support and the springs absorb shock from sleepers in order to preserve the mattress and prevent wear and tear.
Foundation: Also known as a bed frame, foundations often consist of metal or wooden slats that support the bottom of the mattress and thick rails to prevent the bed from slipping off the edges. Foundations do not absorb shock as well as box springs, but we've observed that they tend to provide more overall support.
Platform bed: A platform bed is essentially a slatted foundation with a headboard. These beds may be a bit more stylish than standard foundations. Buyers can also select a panel bed, which features slats along with a headboard and footboard. Canopy and four-poster beds – both of which include corner posts – are also widely available.
Adjustable base: An adjustable base can be elevated or lowered at the head and feet to change the sleeping angle. We've found these bases can be particularly helpful for people with neck and back pain, chronic snorers, and others who experience discomfort lying on a flat mattress surface. However, they tend to be fairly pricey.
When choosing a foundation or base for a new mattress, be sure to check the bed's product warranty. Many brands specify which support systems are acceptable. Conditions may include maximum slat widths and support system materials. Failure to use a proper support system may result in a voided warranty if damage occurs.
How Do You Know an Online Mattress Company Is Reputable?
Vetting brands is an important step during the mattress selection process. How can consumers tell which companies are reputable?
We recommend starting with the Better Business Bureau (BBB), an independent nonprofit organization that reviews individual companies. The BBB awards letter grades based on a number of factors, such as time in business, number of customer complaints, and the company's response (if any) to these complaints. Any brand with a BBB grade of 'B' or better should be considered fairly reputable. If the grade is lower, take a minute to read the reasons why an unfavorable rating was given.
Customer and owner reviews can also be a helpful source of information. However, we don't recommend looking for reviews on the online mattress brand's website. Many companies nest negative reviews in hard-to-find areas of the site or arrange all reviews in a way that makes them difficult to sort. Instead, visit online forums and message boards dedicated to mattress topics. The review and comment sections of mattress retailer websites may also offer insights into certain brands. Sites that distinguish "verified owners" from other reviewers are most trustworthy. Also consider visiting websites that rate businesses based on customer reviews, such as Yelp And Trustpilot.
Lastly, perform a quick web search about the company to check for recent news and updates. Take time to look into other areas of the brand, as well, such as the country in which their beds are manufactured and feedback from former employees.
Shipping, Returns, and Warranties
Shipping, returns, and warranties are all very important factors to consider when buying a new mattress in a box. When comparing online mattress brands, information for these three topics should be easily accessible and clearly worded.
Shipping
Shipping options: A mattress product page will normally contain an overview of the customer's shipping options. For more detailed information, customers should visit the site's dedicated shipping and delivery page. If this page does not exist, we've found that the FAQ page will likely contain all of the important details.
Shipping costs: Standard ground delivery is almost always free for customers in the contiguous U.S. Some brands also offer free shipping to Alaska, Hawaii, and/or Canada. Additionally, a small number of companies provide free White Glove delivery, which includes in-home assembly and old mattress removal. However, most brands charge at least $100 for White Glove services and some include upcharges for old mattress removal. Expedited and overnight ground delivery will usually incur additional fees as well.
Delivery wait times: With standard ground shipping, customers should expect the mattress to arrive on their doorstep within 2 weeks of the original order. The customer's address may factor into their wait time, as delivery to rural locations often takes longer. White Glove delivery may take two to three weeks, as the brand will need to coordinate the delivery with local couriers in the customer's area. The upside to White Glove shipping is that you can usually pinpoint a delivery date and time, whereas standard ground shipping does not offer a specific delivery timetable.
Ground shipping: Mattresses sent via standard ground delivery will be compressed and shipped in a box. Couriers will leave the mattress on the customer's doorstep unless otherwise directed. If you live in an apartment or other shared living space, the courier may choose to leave the box at the front desk. An adult does not need to be at the residence when the mattress arrives, and a signature will not be required for these deliveries.
White Glove delivery: Because White Glove couriers travel to your residence in a large truck, the mattress will not be compressed, but it may be wrapped in plastic or other materials to prevent external damage. Most White Glove deliveries require an adult to be present during the delivery, and a signature is also required. Prior to the couriers' arrival, you may be asked to clear the path between the front door and the bedroom where the mattress will be kept.
Returns
Return policy: An online mattress brand's return policy will often be listed alongside information about their mattress sleep trial. As with delivery information, the return policy may be located on a dedicated "sleep trial and returns" page on the company's website, or in the site FAQ.
Return costs: Online mattress brands almost always offer free returns within the sleep trial period. In most cases, the company will send a courier to your residence to retrieve the mattress and transport it for recycling or charitable donation. Once the mattress has been received by personnel, a full refund will be issued using your original form of payment. Some brands charge return fees, but these rarely exceed $100 if the return is requested during the trial period.
Return requirements: If couriers are not available to pick up the mattress, the brand may ask the customer to recycle or donate the bed themselves. Proof of either is often required to receive a full refund. The costs of recycling or donating the mattress may be reimbursed, as well.
Returns after the trial period ends: After the sleep trial concludes, mattress owners should defer to the product warranty. Very few companies offer full refunds for mattress returns beyond the trial period. However, refunds may be granted if the mattress develops a defect.
Warranties
Warranty overview: A warranty is an agreement between a company and a consumer that offers protections against product defects and associated expenses. All mattresses come with some sort of warranty, which pledges the company will repair or replace any defective mattress at little to no extra cost to the owner (minus shipping charges). Most online mattress brands feature dedicated warranty pages on their website. If this information is not easily accessible, reach out to customer service representatives.
Warranty length: A standard mattress warranty spans 10 years in length, and begins either on the date of purchase or date of delivery. However, many brands offer longer warranties lasting 15, 20, or 25 years. "Lifetime warranties," which cover the product until the owner relinquishes possession, are also fairly common.
Covered defects: Most mattress warranties include a list of "covered" defects that warrant a repair or replacement. These include "sagging depth," referring to body impressions that form on the surface and can compromise support. A warranty may cover sagging that measures anywhere from a one-half inch to one and a half inches deep, depending on the brand. Other common covered defects include physical flaws in the mattress that cause materials to deteriorate prematurely, or manufacturing flaws related to the mattress cover.
Non-covered defects: A warranty should also list defects that do not qualify for free repairs or replacements. These often include impressions that do not reach the required sagging depth, issues that arise due to changes in the owner's personal preferences, or physical damage such as burns, cuts, and stains. Problems that occur due to improper support systems or leaving the mattress in its box for too long may also be listed.
Prorated vs. non-prorated: A warranty may be either completely non-prorated or partially prorated. For a non-prorated warranty, the owner will not need to pay additional fees to have a defective mattress replaced. Prorated warranties work a bit differently. They begin with non-prorated coverage, but after a certain number of years owners will need to pay a certain percentage of the original price in order to replace their defective mattress. This percentage usually increases on an annual basis until the warranty expires.
For example, let's say a 20-year warranty offers 10 years of non-prorated coverage. Beginning in year 11, owners must pay 50 percent of the original mattress price to replace their defective bed. In year 12, this rate increases to 55 percent, then 60 percent in year 13, and so on.
Transferability: Mattress warranties are non-transferable. This means anyone who buys or acquires the mattress from its original purchases will not receive warranty coverage. Additionally, buyers who purchase their mattress from a non-authorized retailer do not qualify for the warranty.
Types of Mattresses Sold in a Box
Every mattress model is unique in terms of materials and construction, but we've found that most beds sold today fall into one of five general categories based on comfort layer and support core components. Each type shares consistent features, but there are variations in terms of durability, quality of materials, and other performance factors.
Below, we'll take a closer look at the five most common mattress types.
Hybrid
Definition: A hybrid features thick comfort layers of memory foam and/or latex, along with a pocketed coil support core. Many hybrids also feature transitional polyfoam layers. This design differentiates hybrids from traditional innersprings, which are constructed with thin foam layers and non-pocketed coils. The average queen size hybrid costs between $1,600 and $2,000, which is a mid-level price range.
Innerspring
Definition: Innersprings are constructed with polyfoam comfort layers and steel coil support cores. The coils may be encased in fabric, or pocketed, or open and joined together with wires known as helicals. Innerspring mattresses are generally inexpensive, with an average price range of $900 to $1,100.
Latex
Definition: Latex is a material derived from the sap of rubber tree plants. An all-latex bed will typically consist of softer, contouring latex in the comfort layer and denser, firmer material in the support core. The latex may be organic or natural, meaning it contains few (if any) chemical fillers. Blended or synthetic latex is made with more chemical components. Latex beds have an average price range of $1,600 to $2,000.
Airbed
Definition: An airbed contains motorized air chambers in the support core. Owners can add or release air from the chambers, which in turn adjusts the overall firmness of the mattress. Standard airbeds contain at least two chambers, but some feature eight or more. Many models are designed for dual firmness, meaning different firmness levels on each side of the bed for couples with differing preferences.
Foam
Definition: A foam mattress will feature memory foam and/or polyfoam comfort layers over a high-density polyfoam base. Foam models sold today offer the widest firmness range, and customers can choose from beds that are soft, firm, or somewhere in the middle. The average foam mattress costs $900 to $1,200.
Important Considerations When Buying a Mattress in a Box
When shopping for a mattress, we recommend making a checklist of important features and qualities when comparing different brands and models. This allows you to make a selection based on your own needs and preferences – especially since mattress companies can be somewhat misleading with their terminology, advertising beds with "high coil counts," "universal comfort," "eco-friendly foam," and other features that are either exaggerated or inaccurate.
We recommend focusing on the following variables when choosing a new bed:
Sleeping Position
The best mattress for a sleeper depends on their preferred sleep position. We've found that side sleepers often need softer mattresses to cradle the body, align the spine, and reduce pressure. Back sleepers usually prefer a balance of body-conforming and support with minimal sinking beneath the shoulders and hips. For stomach sleepers, we recommend a mattress that is supportive enough to prevent deep sagging around the midsection.
Mattress Type
As we discussed above, each mattress type offers distinct benefits and advantages. Our testing shows that hybrids and innersprings are very supportive and breathable, but offer limited pressure relief and motion isolation. All-foam and all-latex beds alleviate pressure very well in our performance tests, but many lack strong edge support and sink along the perimeter. Airbeds provide the best customization – but these are also the most expensive mattresses on average.
Contouring
Our testers routinely find that mattresses that conform closely to the body provide the best pressure relief for sleepers. These include memory foam, polyfoam, and all-latex beds. Hybrids and airbeds may also conform well if their comfort layers are thick enough. Innersprings generally offer little to no conforming.
Quality Materials
Material quality plays a role in mattress durability, as well as pressure relief, temperature neutrality, and other performance factors. Based on our extensive testing and research, we've noticed that first-rate mattress materials include high-density memory foam, organic or natural latex, and tempered steel coils.
Firmness Level
On a scale of 1 to 10, with 1 being the softest and 10 the firmest, most mattresses sold today fall between 3 and 8. Our test team notes that softer beds tend to be better for lighter people, especially side sleepers. Mid-level firmness may be a better choice for people of average weight. Lastly, firmer beds provide more support (and sag less) for heavier people.
Pressure Relief
A mattress should cradle the body and reduce pressure in sensitive areas, and not cause more pressure to occur. How well a mattress alleviates pressure depends on several factors, such as the comfort layer material, the bed's firmness, and the sleeper's body weight and preferred sleep position.
Edge Support
Some beds sink when owners sit or lie down near the edges. Other beds have thick support systems that reinforce the perimeter to prevent this sinkage. We find that many of the best mattresses for edge support have zoned base layers consisting of thicker coils bolstering the edges while thinner, softer coils support the sleeper's body.
Temperature Regulation
We've tested many beds for cooling, and our lab results show that the best beds for temperature regulation are usually hybrids and innersprings. The open coil systems in these beds tend to generate strong air circulation. Mattresses with thick foam comfort layers often absorb and trap body heat from sleepers, causing them to feel excessively warm. Latex beds may sleep cooler, especially if the latex is aerated with tiny holes to promote airflow to the surface.
Other Articles of Interest