Best Weighted Blankets of 2023
Sales of weighted blankets have soared in recent years. While the research behind the purported health benefits of weighted blankets is still fairly inconclusive, those who swear by them say that hunkering down under the added weight helps to reduce anxiety and, in some cases, relieve insomnia.
Most weighted blankets contain plastic pellets, ball bearings, and other objects that make them feel significantly heavier than a standard cover or duvet. However, some newer weighted blankets feature open-knit designs that many sleepers find more breathable. Typical weights for these blankets range from 5 to 30 pounds. Sleepers tend to feel most comfortable beneath a blanket that comprises roughly 10 percent of their own body weight.
Our top picks for the best weighted blankets are listed below. Our team made these selections after conducting hands-on product testing and brand research. Testers laid under each blanket to evaluate breathability and even fill distribution. We gauged noise levels generated by each blanket and closely handled each blanket to get a sense for the overall feel and softness. Our testers include hot sleepers and a range of other sleep preferences, so you can rest assured our picks are compatible with different types of sleepers.
For a closer look at each pick on our list, you can read our reviews below. Further down, we also provide an in-depth guide to shopping for weighted blankets. In our guide, we discuss how to choose a weighted blanket, common materials and designs, purported benefits, typical pricing, and safety concerns for children as well as adults with certain health conditions.
Best Weighted Blankets Video
Watch our video below to get a closer look at the construction and performance of some of our top weighted blanket picks.
Our Recommendations
Distinguished by an innovative design and a breathable cotton construction, the Bearaby Cotton Napper is one of the most exciting weighted blankets on the market. Unlike most weighted blankets, which feature a more traditional duvet-style design with an interior filling consisting of weighted beads, Bearaby blankets feature a layer on layer fabric design that improves temperature neutrality and ensures an even weight distribution along the blanket.
The Cotton Napper is made primarily from organic cotton fabric and spandex. Due to this organic construction that doesn't include artificial fillers or synthetic beads, this blanket is softer, more breathable, and more natural then the average weighted blanket.
The blanket is available in eight colors and three different weights: 15, 20, and 25 pounds. Due to the Bearaby's ultra-breathable design, we recommend using it alongside your comforter or duvet in most circumstances. As the Bearaby features one of the most high-quality weighted blanket constructions on the market, it does have an above-average price-point.
Shipping is free to the contiguous U.S. Bearaby offers a 30-day return policy for customers returning unwashed blankets within this timeframe. A processing fee is charged for the return of Napper blankets.
Weighted blankets derive much of their comfort from their added heaviness, but the hand feel of the blanket can greatly enhance this comforting quality. The Luxome Removable Cover Weighted Blanket is a perfect example, combining a luxuriously soft fabric with a glass bead fill to help you get a better night's rest.
The blanket comes with a removable cover in several fabric options. You can choose a soft minky fabric that feels plush and velvety or a bamboo-derived lyocell fabric that's silky and smooth. The lyocell excels at temperature regulation while the minky cover is ideal for trapping warmth. If you'd like the best of both worlds or plan to use this blanket through all seasons, you can purchase a reversible option with lyocell on one side and minky on the other.
Within the cover is an inner blanket filled with fine glass beads that make minimal noise when they shift. The beads also retain very little heat and they should help the blanket stay cool. The fill is encased in a shell made of 100% cotton in a percale weave, a breathable fabric that further enhances the blanket's cooling properties.
The blanket is available in three sizes, each carrying a different weight. The medium is 15 pounds, the large is 18 pounds, and the extra large is 30 pounds. Unlike some weighted blankets, this model is entirely machine-washable – including both the inner blanket and cover.
Shipping is free to the contiguous U.S., and Luxome offers full refunds for blankets returned within 30 days.
Saatva's reputation for luxurious, well-crafted sleep products extends beyond the brand's mattress line. Take the Organic Weighted Blanket, which features glass microbeads encased in a shell composed of plush cotton velvet. A quilted design with small baffles helps ensure even fill distribution, and thick trim prevents wear and tear over time.
The blanket is available in two sizes, each with a unique weight. The single blanket weighs 12 pounds, making it ideal for solo sleepers in the range of 100 to 140 pounds. If you weigh more than 140 pounds or enjoy sharing your weighted blanket with a sleep partner, the larger 20-pound blanket might be a better fit. This option is comparable to an oversize queen/king, so there's plenty of coverage for two people.
You can also choose between two colors for the shell, taupe or graphite grey. The shell is non-removable, and dry cleaning is recommended if stains or smudges occur. Please note the blanket is designed with adults in mind, and Saatva does not recommend that children use it.
The Organic Weighted Blanket's sticker price is a bit above average, but ground delivery is free of charge to customers in the contiguous U.S. Your order includes a sleep trial that runs for 45 nights. Return shipping is also free. If you decide to keep the blanket after the trial period ends, you'll receive a 1-year warranty against material and structural defects.
The Sweet Zzz Organic Weighted Blanket is constructed with natural and organic materials at an affordable price, including a cover made from a blend of GOTS-certified organic cotton and bamboo-derived rayon. Eco-conscious shoppers on a budget should appreciate this pick's high-quality materials and approachable sticker price.
Organic cotton and rayon derived from bamboo are highly breathable materials, and the blanket contains glass bead fill for added temperature neutrality. These components make the blanket suitable for people who sleep hot or live in warmer climates, but the cover is also cozy enough for cold weather. One side of the cover has a fleecy texture, while the other is silky-smooth.
Customers can choose five different weights ranging from 7 to 20 pounds. This selection ensures most shoppers weighing up to 200 pounds will find a suitable option. Customers can add a duvet cover to their order for an additional fee. The blanket is competitively priced, and Sweet Zzz offers free shipping anywhere in the contiguous U.S. The Organic Weighted Blanket comes with a 50-night sleep trial and a five-year warranty.
Shoppers seeking a weighted blanket that won't lead to excessive overheating should look no further than the Hush Iced 2.0 Cooling Weighted Blanket. From the lightweight cover to the cool fill material, this blanket was designed with hot sleepers in mind.
The Iced 2.0 cover is composed of bamboo-derived viscose that is naturally breathable and moisture-wicking, making it a great option for summer use. An inner blanket filled with glass beads retains minimal heat. Quilted squares keep the fill evenly distributed, preventing it from bunching up. The cover is fully machine-washable for easy care, but you should only hand wash the inner blanket. The blanket cover is available in white or dark gray.
The blanket comes in twin, queen, and king sizes to accommodate single sleepers and couples who like sharing weighted blankets. There is also a teen size with slightly smaller dimensions than the twin. The teen is available in a 12-pound option and the twin is available in 15 and 20 pounds. The queen comes only in a 20-pound version, while the king is sold in a 30- or 35-pound option.
Hush ships free to customers living in the contiguous U.S. Weighted blanket purchases come with 100-night sleep trials, during which you can test the blanket and return it for a full refund. If you keep the blanket, it is backed by a 1-year warranty against structural defects.
The Silk & Snow Knit Weighted Blanket stands apart from many competitors with its open construction and excellent cooling properties. While traditional weighted blankets are designed like duvets filled with glass or plastic pellets, this model is composed of knit yarns that are both soft and breathable. The open knit design also ensures even weight distribution.
The blanket is made with 100% cotton that feels heavy but does not trap body heat. Thanks to its knit design, the model is a good option for people who tend to run hot during sleep or are looking for a blanket that can be used year-round, including in warmer seasons. Nine color options are available.
Shoppers can choose between 15-pound, 20-pound, and 25-pound models and eight color options. These all measure 72 inches in length, with varying widths depending on the weight. If you like to bring your weighted blanket on trips, Silk & Snow offers an 8-pound "travel size" option, which measures 30 inches by 48 inches. The blanket is also available in an 8-pound option for children, measuring 38 inches by 60 inches. While this option does cater to children, parents should confirm that 8 pounds is safe for their child's specific weight. The rule of thumb is to choose a blanket that is roughly 10% of a person's body weight, but you can check with your child's pediatrician to err on the side of caution.
The blanket is machine-washable, ideally in front-loading washers on a delicate, cool water cycle. Due to the chunky knit, the product should not be hung to dry. Instead, place the blanket on a flat surface or tumble dry on a low setting for two or three cycles.
Silk & Snow allows customers to return blankets within 100 days for a full refund, as long as the blanket is free of stains, odors, and tears. Shipping is free to the contiguous U.S. and all Canadian provinces.
The Gravity Blanket was the first weighted blanket marketed to the public when it was introduced in 2017. The inner shell of this blanket is made of 100 percent cotton and filled with non-toxic, fine-grade glass beads, both of which provide above average temperature regulation. Hot sleepers shopping for a weighted blanket should consider this pick.
With a soft duvet cover made from polyester microfiber, this weighted blanket offers a very plush and fleecy feel. The cover is removable, and can be washed and dried at home. Grid-stitching ensures uniform weight distribution. For added stability, the inner blanket is equipped with corner ties and elastic buttons that secure it to the duvet cover and prevent uncomfortable bunching. Gravity Blanket offers seven cover colors, ranging from neutrals to bold blue, purple, and yellow. The inner blanket should only be hand-washed and air-dried.
You can select a weight of 15, 20, or 35 pounds for your Gravity Blanket. Those who weigh at least 150 pounds should find one of these options comfortable. All blanket sizes share the same measurements of 48 inches wide and 72 inches long with the exception of the queen/king model, which is 35 pounds (90 inches by 90 inches) and great for couples.
The three Gravity Blanket models are all available at mid-level price-points compared to other weighted blankets. You can bundle your blanket purchase with Gravity's weighted sleep mask and/or bamboo from rayon sheets and save 5% on both items. Ground shipping is free for all U.S. orders. The Gravity Blanket is backed by a 30-night sleep trial.
For all of their benefits, weighted blankets can lock in heat and cause you to feel excessively warm while you sleep. Uncomfortable temperatures shouldn't be an issue with the Chunky Knit Weighted Blanket from Brooklyn Bedding, though. An open-knit design promotes consistent airflow, and each yarn is packed with dense fill to ensure you receive adequate compression. The blanket may not provide enough insulation on exceptionally chilly nights, but it should help you sleep cool the rest of the year.
The yarns are composed of polyester in a soft jersey knit, so the blanket glides gently over the skin and shouldn't cause any irritation. Polyester fibers also make up the fill. You can choose between two weights. Using the "10% rule," we recommend the 10-pound blanket if you weigh 80 to 120 pounds, and the 15-pound blanket if you weigh 130 to 180 pounds. The blanket is also available in two colors, cream and gray.
Due to the hand-knit construction, the blanket should only be spot-cleaned as needed and never machine washed. Regardless of which weight you select, the blanket is designed for a throw size of 50 inches wide and 60 inches long. These dimensions make it best suited to single sleepers.
Brooklyn Bedding offers free ground shipping throughout the contiguous U.S. Your purchase includes a 30-night trial period. Should you decide to keep the blanket after the trial ends, it's also covered under a 1-year warranty.
Helix is a company best known for mattresses, but the brand also offers a line of bedding that includes the Helix Weighted Blanket. The blanket's outside cover is made of cozy fleece on one side and soft microfiber on the other, both of which have an exceptionally soft feel.
The blanket is designed with high-quality glass bead fill encased in a cotton shell. Grid stitching keeps the glass beads in place, resulting in even distribution across the blanket and preventing the fill from bunching up.
The blanket is available in three weight options – 10, 15, and 20 pounds. These weights are best suited for people who weigh between 100 and 200 pounds. All models measure 48 by 72 inches, which is a good throw blanket size for one adult. The cover is removable and machine-washable, and the blanket carries an affordable price-point compared to similar quality blankets in the same size.
Shipping of blankets is free to customers in all 50 states. The blanket comes with a 100-night sleep trial and 1-year limited warranty.
The Nappling is Bearaby's kids blanket, providing Bearaby's trademark knitted design in a smaller, lighter, and more affordable form. With two weight options, this blanket can accommodate a wide age range in children.
Like all Bearaby blankets, the Nappling is made using a layer upon layer design rather than the usual weighted bead design. This improves breathability and allows for a more even weight distribution throughout the blanket. This blanket is made from 100% organic cotton, which is a material known for its durability, breathability, and softness.
The Nappling comes in a 6-pound and 8-pound option. Bearaby recommends choosing a blanket that is approximately 15 percent of your child's body weight. The lighter option measures 36 inches by 48 inches, while the heavier blanket is 40 inches by 60 inches. Shoppers can pick from four solid colors and a multi-color striped blanket. Unlike many weighted blankets, this model is fully machine-washable, which is a great asset for a kid blanket.
Bearaby allows customers to return unwashed Napplings within 30 days for a full refund, minus a processing fee. Shipping is free to the contiguous U.S.
The Baloo Living Weighted Blanket is a great choice for its temperature regulation. The blanket is constructed with a quilted cotton cover and a glass microbead fill padded with cotton batting. The cover provides excellent breathability to keep you cool in the warmer months, but the blanket also provides decent insulation when the outside temperatures drop. The blanket is ideal for couples, especially those who have different temperature preferences.
The blanket is available in weights of 12, 15, 20, or 25 pounds, making it ideal for adults between 120 and 250 pounds. The cover and liner feature double-stitched baffles for the beads to distribute their weight evenly across your body. The entire blanket can be laundered in any household machine. Simply wash on a cold, gentle cycle and tumble dry on a low setting. This makes the blanket relatively easy to clean since many competing models are not completely machine-washable.
Most sizes for the blanket are sold with white or gray colors, but the 12-pound throw is available in four other colors: white, silver, navy, and rose. All three are derived from sustainable, 100% natural dyes.
The blanket comes with free shipping available anywhere in the U.S. The blanket is backed by a 30-night sleep trial. Return the blanket within the trial period and you'll receive a refund minus some minor shipping charges (typically less than $20). Baloo also offers a lifetime warranty for the blanket, which is somewhat rare for this type of product.
In-Depth Weighted Blanket Guides
For more personalized weighted blanket recommendations, check out the following pages:
How to Choose a Weighted Blanket
It is believed that weighted blankets promote relaxation and ease sleep onset by triggering the release of sleep and happiness hormones while reducing the production of natural steroids like cortisol. Fittingly, the most important consideration when choosing a weighted blanket is how light or heavy it feels. Other factors that may affect your decision include materials, sizes, colors, prices, and whether or not the blanket can be returned if you are dissatisfied with it.
What to Consider When Purchasing a Weighted Blanket
If you have a hard time relaxing and falling asleep, then you might be an excellent candidate for a weighted blanket. However, these products are not for everyone. While many sleepers report more relaxation and less anxiety sleeping under a weighted blanket, others feel too claustrophobic and pinned down. A weighted blanket may not be suitable if you are a hot sleeper, either – though some models promote temperature control better than others.
When browsing different weighted blankets, you should take the following factors into account.
Price
The average weighted blanket costs between $100 and $300 in any size. Some models carry different price-points depending on the selected weight. For others, the price will be the same no matter which size you select. Be sure to factor shipping costs, if applicable, into your shopping budget.
Weight
The general rule of thumb is to choose a weighted blanket that is roughly 10 percent of your own body weight. However, this is not a hard and fast rule. Realistically, a blanket weighing between 5 and 12 percent of your body weight may be comfortable. The best way to determine your optimal blanket is to test out different weights.
Quality Materials
A weighted blanket made from high-quality materials may cost a bit more than average, but you can usually count on better durability and a longer lifespan from these models. Those made with cheaper fabrics and plastic pellets tend to wear out more quickly, especially if you wash and dry them in household machines.
Cover Material
You should choose a weighted blanket based in part on your desired feel or texture. Some of these blankets have covers made of cotton or microfiber material that deliver a smooth feel, while others are made with fleece for a plusher and cozier texture. A few weighted blankets have reversible designs with a distinct feel on each side.
Ease of Cleaning
Most weighted blanket covers are removable and can be washed and dried in a household machine. In some cases, the entire blanket can be laundered at home. Alternatively, you may need to spot clean or dry clean your blanket to prevent early wear and tear.
Breathability
Some weighted blankets are constructed with breathable cover fabrics and interior components to keep you cool during the night. Others may absorb and trap body heat; combined with their hefty weight, this can lead to excessive warmth.
What Are the Benefits of Weighted Blankets?
Weighted blankets are designed to reduce stress and promote feelings of relaxation, which in turn can help you fall asleep more quickly. For many people, the feeling of a blanket pushing gently onto their body and weighing them down is calming. This sensation is intended to simulate deep pressure touch (DPT), a type of therapy that alleviates anxiety by distributing an even amount of weight across the body. DPT is comparable to a full body hug. When administered properly, some studies have shown DPT to be highly effective at reducing anxiety in children and adults.
Weighted blankets are often touted as therapeutically valuable for those with certain medical conditions like autism, depression and PTSD, but overall, the research supporting these claims is thin. As with any product, be wary of any medical claims from manufacturers.
Who Shouldn't Use a Weighted Blanket?
Some people should avoid weighted blankets, or at least consult with a physician before using one. For instance, you should definitely have a word with your doctor about weighted blankets if you live with a chronic respiratory or circulatory issue, such as asthma, low blood pressure, or type 2 diabetes. Some weighted blanket manufacturers actively discourage people with these conditions from using their products.
Another potential deterrent is obstructive sleep apnea (OSA), a sleep disorder characterized by heavy snoring and a temporary loss of breath during the night. The weight of a heavy blanket may restrict airflow, exacerbating apnea-related breathing episodes in the process. People who live with OSA due in part to obesity may be particularly vulnerable to breathing issues under a weighted blanket.
People who generally feel claustrophobic may find weighted blankets too stifling, as well. If you tend to feel anxious in enclosed spaces or when pressure is applied to your body, then you may want to consider other methods to help wind down and fall asleep. Lastly, weighted blankets pose a suffocation risk to children younger than 3 or weighing less than 50 pounds. There have been at least two cases of children who have died after using a weighted blanket.
Who Is Best Suited for a Weighted Blanket?
Weighted blankets carry benefits for a wide range of sleepers. Whether or not it is officially due to sleep onset insomnia, those who struggle to fall asleep at night may feel more relaxed and less anxious under a weighted blanket. This can be true for adults, teenagers, and children age 2 or older, especially if they experience an undue amount of stress over work, family, or other concerns.
Which Weighted Blankets Are Best for Kids? Are They Safe?
You should consult with your pediatrician or family physician before choosing a weighted blanket for your child. For some young ones experiencing sleep difficulties, a weighted blanket may be less effective than other strategies, such as establishing and sticking to a strict bedtime or avoiding liquids in the hours leading up to sleep.
Weighted blankets are generally considered safe for children who are at 3 years of age or older and weigh at least 50 pounds. When selecting a blanket for a child, it's wise to follow the "10 percent rule" or err on the lower side. An excessively heavy blanket can pose an injury risk for children, even if they are 3 or older.
Many weighted blankets are specifically designed for children. A weighted blanket for kids will range between 3 and 10 pounds. If your child weighs more than 100 pounds, then a blanket for adults or children may be more suitable.
Again, have a chat with your family doctor before deciding which blanket – if any – will be the most effective sleep strategy for your child.
Do Weighted Blankets Make You Hot?
The blanket provides some measure of warmth and insulation, but it should not make you overheat. As with standard blankets, whether or not a weighted blanket sleeps cool depends largely on its material composition. Most weighted blankets include an outer cover, which provides padding for your body, and an inner shell where the beads or pellets are encased. Certain cover fabrics, such as cotton and rayon, are fairly breathable, while others trap more heat. The inner shell contents also play a role in temperature regulation. Models with thicker batting tend to sleep warmer than those with little to no batting.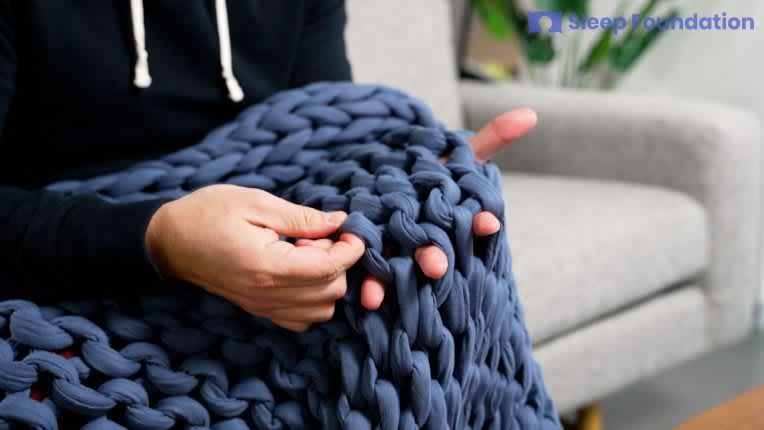 Some blankets also promote more airflow than others due to how they are constructed. Knitted blankets have an openwork design that allows air to pass through freely, and this can help you keep cool – even if the blanket is exceptionally heavy. Quilted blankets cannot circulate air as well and often sleep hot as a result.
How Do I Choose the Right Weight?
The best weight for your blanket depends entirely on your body. As we've discussed, most people tend to prefer blankets that equate to roughly 10 percent of their body weight. That said, there is some wiggle room with this estimate.
The table below lists our suggestions for the most common blanket weights. We've based our figures for ideal sleeper weight on the "10 percent rule." The acceptable sleeper weight range figures are based on the general assumption that a sleeper will feel reasonably comfortable under a blanket that equals 5 to 12 percent of their own weight. For example, a 15-pound blanket will suit you if you weigh around 130 to 170 pounds. Meanwhile, a 20- or 25-pound blanket may provide more deep pressure for people who weigh between 180 and 220 pounds.
Keep in mind that weight loss or gain can affect how comfortable your weighted blanket feels.
These are estimated ranges based on a general consensus among weighted blanket users. To determine your ideal blanket heft, test out a few models with differing weights to see what feels most comfortable.
What Size Should I Get?
You may be a bit limited in sizing options for your weighted blanket. Many models come with the same width and length measurements regardless of which weight you select. For others, you'll be able to choose from a broader selection of sizes, such as twin, full, queen, and king. Kid-friendly child sizes may also be available, depending on the seller.
Although this is not always the case, some heavier weighted blankets are wider and/or longer than their lighter counterparts. Most weighted blankets are designed for single person use, so twin is the most common size offered by manufacturers. A common size for larger weighted blankets is 60 inches wide by 80 inches long, which corresponds to a queen size mattress.
How Do You Clean a Weighted Blanket?
How to clean a weighted blanket depends entirely on that specific model. Weighted blankets generally fall into one of the following categories for cleaning and care:
Machine wash and dry: Every component of the blanket – including the inner shell that contains the weighted materials – can be washed and dried in a household machine. These models usually come with detailed laundering instructions about water temperature, acceptable cleaning agents, and drying heat level.
Machine wash, not dry: Some weighted blankets can be washed in a machine as a whole, but should be air dried rather than machine dried.
Machine wash cover only: For these blankets, you'll need to separate the inner shell housing the beads or pellets from its outer cover. Unless the care instructions say otherwise, you can wash and dry the cover in a machine. Spot-cleaning with water and mild detergent is usually advised for the inner shell.
Spot or dry clean only: Avoid using a household machine to wash or dry these blankets. This can permanently damage the outer and inner materials.
Always consult the care instructions tag that comes with your blanket before cleaning it. Also, keep in mind you won't be able to return the blanket for a refund if it is stained or soiled (assuming the seller allows returns in the first place).
How Much Do Weighted Blankets Cost?
Expect to pay at least $100 for a new weighted blanket. Most models don't exceed $300. Some blankets carry the same price-point regardless of selected weight. Others have prorated prices based on weight. Select manufacturers offer discount bundles for customers that include their weighted blanket and another similar item, such as a pillow or sheet set. You may also be able to save money by buying your blanket through a third-party retailer, rather than directly from the company.
Most weighted blanket manufacturers and retailers offer free ground shipping to at least the contiguous U.S., if not all 50 states. Canadian customers may qualify for free delivery, as well. If delivery is not free, check for flat shipping rates. Otherwise, you may pay shipping charges based on weight – making heavier blankets potentially more expensive than lighter ones.
What About Sleep Trials and Warranties?
When it comes to sleep trials, weighted blankets are a mixed bag. Some brands do not offer any sort of trial period whatsoever. Others may offer a sleep trial of 30 nights or longer, during which customers can test out the blanket and decide whether or not to keep it. These sleep trials usually carry certain stipulations — you probably won't be able to return the blanket for a full refund if it has been laundered. Companies never accept returns for blankets that are stained, soiled, or otherwise damaged.
Warranties are also somewhat common for weighted blankets. Although some manufacturers don't offer a warranty, many will back their blankets with up to 5 years of warranty coverage. This ensures the company will issue a replacement or refund your money if the blanket is faulty or develops a defect down the road.
Thanks for the feedback - we're glad you found our work instructive!
If you're ready for more, sign up to receive our email newsletter!
Was this article helpful?
Thanks for the feedback - we're glad you found our work instructive!
Submitting your Answer...
Other Articles of Interest